Part 1
The Secret War: How U.S. hunted AQ in Africa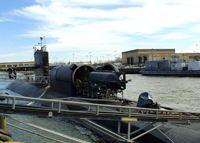 One night in November 2003, beneath the moon-washed waters off Somalia's northern coast, a small, dark shadow slipped away from the attack submarine Dallas and headed toward the shore.
The smaller shape was a 21-foot-long submersible called a SEAL delivery vehicle.
Launched from a tubular dry deck shelter on the sub and designed to infiltrate Navy SEALs on covert or clandestine missions, the SDV carries its crew and passengers exposed to the water, breathing from their scuba gear or the vehicle's compressed air supply. Aboard were a handful of SEALs on a top-secret special reconnaissance mission into a country with which the U.S. was technically not at war.