2012 Insider's Guide to the Guard and Reserve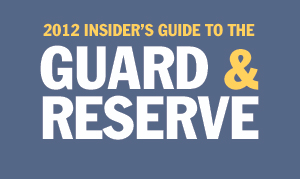 Joining Up

Pay and Benefits

Support Services

Education

Activation and Deployment

Rights and Responsibilities

Separation

Retirement
Activation and deployment
ACTIVATION CHECKLIST
The following is a checklist of things that should be squared away before you are activated.
DEERS
To have access to military benefits, all family members must be enrolled in the Defense Enrollment Eligibility Reporting System. Reservists should ensure this information is up to date well before activation.
DEERS data can be checked and updated at www.dmdc.osd.mil/appj/address/index.jsp.
DEPENDENT CARE
Single parents and dual-military couples with dependents have unique circumstances. But that alone will not prevent single or dual activation.
These members must complete a Dependent Care Certification form to certify they have arranged for child care in the event of mobilization. These forms are specific to each service.
An alternate family member or friend must be designated as a legal guardian. Once mobilized, service members are eligible for on-base child care if they live near a facility.
DIRECT DEPOSIT
Direct deposit of military pay is mandatory. Be sure your pay goes to a banking institution and account that authorized family members can access. Make sure SF Form 1199A, the Direct Deposit Sign-Up Form, is on file with your reserve pay office.
Troops can access and update their pay information online at www.dfas.mil.
LEGAL DOCUMENTS
Many reserve legal units can help write wills and/or powers of attorney. Check with your reserve center for details. Also, ask your commander or unit administrator for a DD Form 1543 — Annual Legal Checkup. If legal unit support is not available, it is recommended that you contact an attorney.
The following documents, or certified true copies, must be easily accessible:
♦ Marriage license.
♦ Birth certificates for you and authorized family members.
♦ Court orders or decrees pertaining to your authorized family members. This includes divorce decrees and adoption papers.
♦ Detailed plans for dependent care, including a special power of attorney for emergency medical care for minors.
♦ A general or special power of attorney to ensure that the person you appoint can take care of your financial, legal and medical matters in your absence.
♦ A legal will, including a plan for distribution of your personal effects in the event of your death. This service is provided free to all service members.
♦ Copies of civilian medical histories for you and all family members.
♦ An up-to-date passport.
♦ Copies of your Servicemembers' Group Life Insurance form and any other insurance policies.
Troops deploying for extended active duty or an exercise of more than 31 days may enroll in the Thrift Savings Plan or change deduction options.