2012 Insider's Guide to the Guard and Reserve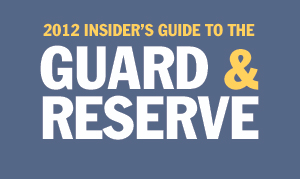 Joining Up

Pay and Benefits

Support Services

Education

Activation and Deployment

Rights and Responsibilities

Separation

Retirement
Rights and responsibilities
OTHER RIGHTS
DEFAULT JUDGMENTS
Courts are barred from entering a default judgment against a service member for failure to respond to a lawsuit or appear at trial. The only exception is if the plaintiff can provide the court with an affidavit stating the defendant is not on active duty. If no affidavit is filed, and the defendant is in the military, the court will appoint an attorney to seek a delay in the proceedings.
Courts also can require plaintiffs to secure bond to protect defendants against harm.
FORECLOSURE
Service members are protected against foreclosures on mortgages and deeds of trust under the following conditions:
♦ The relief is sought on an obligation secured by a mortgage, trust deed or other security in the nature of a mortgage on real estate or personal property.
♦ The obligation originated before entry into active duty.
♦ The property was owned by the service member or family member before entry into active duty and is still owned by that person.
♦ The ability to meet the financial obligation is affected by the member's active-duty obligation.
The Servicemembers' Civil Relief Act protects service members from foreclosure for nine months after returning from deployment to catch up on payments, make alternative arrangements with a lender or, in the worst-case scenario, sell their homes.
INSTALLMENT CONTRACTS
Reservists who signed an installment contract to purchase real or personal property before entering active duty are protected under the law if their ability to make payments is "materially affected" by military service.
However, the member must have paid a deposit or installment payment before entering active duty. The seller is prohibited from exercising any right or option to rescind or terminate the contract or repossess the property unless authorized by court order.
INTEREST RATES
When an obligation was incurred before entering active duty, the interest rate on the debt may be reduced to 6 percent. However, the reduced rate is not automatic; service members must show that their ability to pay the debt is materially affected by their service.
Reservists should contact their creditors, preferably in writing, and include a copy of their military orders.
LIFE INSURANCE
If service members purchase commercial life insurance before entry into service and later find they no longer can pay the premiums, the government may guarantee payment of the premiums or require that the insurance carrier treat the unpaid premiums as a loan against the policy. Members have up to two years after separation to pay the premiums.
STAY OF EXECUTION OF JUDGMENTS
For members who are in military service, or were in service within the past 60 days, a court may stay the execution of judgments, court actions, attachments and garnishments.
If a stay is requested, it must be granted unless the court finds that the member's ability to comply with the order or judgment is not affected by military service.
STAY OF PROCEEDINGS
A civil court proceeding can be stayed when the requirements of military service prevent service members from being present to protect their legal rights. The stay provisions remain in effect during the period of active duty plus 60 days.
TAXES
The states in which service members legally reside can tax military income and personal property. Legal residence does not change because a member goes on active duty and moves to another state.
If a service member's ability to pay the tax is impaired because of military service, the law defers collection of state or federal income taxes for up to six months after termination of service.
No interest or penalty may be charged for the nonpayment of any tax on which collection was deferred. In addition, property cannot be sold to satisfy a tax obligation or assessment except with a specific court order.
SERVICEMEMBERS' CIVIL RELIEF ACT
The SCRA allows service members to suspend or postpone certain obligations so they may devote their full attention to military duties. The law applies in all states, the District of Columbia and all U.S. territories. Reservists are protected from the date they receive orders to report to active duty until 30 to 90 days after the date of discharge from active duty.
The law provides for:
♦ A 6 percent interest-rate cap on preservice loans and loan forgiveness for interest in excess of 6 percent if a member's ability to make higher interest payments is materially affected by military service.
♦ Eviction protection and a formula to calculate rent ceilings.
♦ Extensions on termination of rental property and automobile leases.
♦ Protection from higher tax brackets by preventing states from factoring a service member's income into that of a nonmilitary spouse working in the state.
National Guard members called to active duty under state, rather than federal, authority also have SCRA protection if:
♦ The duty is the result of a federal emergency.
♦ The request for active duty is made by the president or secretary of defense.
If you think you qualify for protection under the SCRA, contact a military legal assistance office.
Contact: For more information, see the U.S. Armed Forces Legal Assistance website at legalassistance.law.af.mil.
TERMINATION OF LEASE
Leases on businesses or homes may be terminated by a Guard or Reserve member if the following conditions are met:
♦ The lease was entered into before entering active duty or before being recalled to active duty for a period of 180 days or more, if the service member receives orders for a permanent change of station or orders for deployment for 90 days or more.
♦ The leased premises have been occupied for the above purposes by the member or dependents.
To terminate a lease when called to active duty, a member must deliver written notice to the landlord. The effective date of termination is as follows:
♦ For month-to-month rentals, termination is effective 30 days after the next rental payment is due, subsequent to the date when the notice of termination is delivered to a landlord.
♦ For all other leases, termination becomes effective on the last day of the month following the month in which proper notice is delivered. The service member in question is required to pay rent only for the months before the lease is terminated.
If rent has been paid in advance, the landlord must prorate and refund any unused portion. If a security deposit was required, it must be returned upon termination of the lease.