2012 Insider's Guide to the Guard and Reserve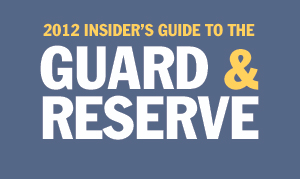 Joining Up

Pay and Benefits

Support Services

Education

Activation and Deployment

Rights and Responsibilities

Separation

Retirement
Joining Up
NATIONAL GUARD
The National Guard is made up of both active-duty and reserve Guard members. Each state and U.S. territory has its own National Guard.
The Army National Guard offers a large selection of military occupational specialties in three major categories: Combat (Infantry, Artillery, Armor, Aviation, Air Defense); Combat Support (Engineer, Chemical, Military Police, Signal, Military Intelligence, Civil Affairs); and Combat Service Support (Finance, Public Affairs, Personnel, Supply, Maintenance, Transportation).
The Air National Guard offers more than 180 career choices in fields that include health care, communications, avionics and electronics.
Members of the Army and Air National Guard enjoy exchange and commissary privileges, medical benefits, free space-available travel, life insurance and, in some cases, bonuses.
The Army and Air National Guard follow the regulations and requirements of their parent services. Guard members and units are available for recall by state governors in times of crisis.
Mission. The Guard has a federal and a state mission. It is called to assist in local emergency and disaster relief.
Residency. You can live in one state and be affiliated with a Guard unit in another. The only requirement is that you can reach your drill site.
Contact: For information on the Army National Guard, call 800-464-8273 or visit www.nationalguard.com. You also can visit the National Guard website at www.ang.af.mil
For information on the Air National Guard, call 800-864-6264 or visit www.ang.af.mil.