2012 Insider's Guide to the Guard and Reserve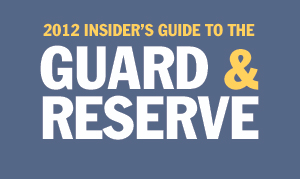 Joining Up

Pay and Benefits

Support Services

Education

Activation and Deployment

Rights and Responsibilities

Separation

Retirement
Education
MILITARY EDUCATION — PROFESSIONAL
GRADUATE SCHOOLS
Air Force Institute of Technology. This school, at Wright-Patterson Air Force Base, Ohio, offers degree-granting graduate and professional continuing education, research and consulting services that respond to Air Force and Defense Department needs.
AFIT has three resident schools for selected officers, noncommissioned officers, Defense Department civilians, nondefense civilians and international officers: the Graduate School of Engineering and Management, the School of Systems and Logistics, and the Civil Engineer and Services School.
The Air Force Center for Systems Engineering also is at AFIT.
Contact: 937-255-6565; www.afit.edu.
Judge Advocate General Legal Center and School of the Army. The school offers an accredited master's degree in military law for all Army judge advocates, judge advocates from the other armed services and Army civilian attorneys, as well as short courses for judge advocates, commanders, general officers and Army civilians in diversified legal disciplines. The course runs from mid-August to late May.
The school also has a specialization program in contract and fiscal law, international and operational law, criminal law, and administrative and civil law.
Contact: www.jagcnet.army.mil.
National Intelligence University. This school awards a master's of science degree in strategic intelligence and a certificate through its postgraduate and undergraduate intelligence programs.
Reservists have two options: a one-year, in-residence program where they study alongside their active-duty counterparts, or a two-year, part-time program designed to fit into drill schedules. Opportunities vary by service.
Contact: National Intelligence University, 202-231-3319; ni-u.edu.
Naval Postgraduate School. This school provides fully funded graduate study in more than 40 programs.
Contact: Director of Admissions, Naval Postgraduate School, 831-656-2023; www.nps.edu.
SENIOR NCO ACADEMIES
Air Force Senior NCO Academy. The academy is for senior master sergeants, senior master sergeant selectees and some master sergeants. Six times per year, it holds six-week classes that teach communication, leadership and management.
The Air National Guard and Air Force Reserve each send 150 people per year. Applications are handled by unit training coordinators. The school has an extension program for those unable to attend a resident course.
Contact: Call the Air National Guard liaison at 334-416-1834; the Air Force Reserve liaison at 334-416-1529; or visit the Air Force Senior NCO Academy at www.au.af.mil/au/cepme/sncoa.
♦ The Chief Master Sergeant Leadership Course is the capstone of professional military education for personnel selected for promotion to chief master sergeant. The CLC consists of 64 academic hours over eight days.
Contact: 334-416-1651.
U.S. Army Sergeants Major Academy. This school operates the Sergeants Major Course for first sergeants and master sergeants selected for promotion. Army National Guard and Army Reserve senior NCOs attend a two-year nonresident version of the course, which culminates in a two-week resident phase.
Contact: U.S. Army Sergeants Major Academy, usasma.bliss.army.mil.
U.S. Coast Guard Chief Petty Officers Academy. This school, located in Petaluma, Calif., is for newly promoted E-7s. It has a reserve class designed to be accomplished during a reservist's annual active duty for training, so class duration is 14 days. Classes convene 16 times a year, with size limited to 32 people.
Contact: www.uscg.mil/petaluma.
Marine Corps Staff Non-Commissioned Officers Academy. Formal professional military education is available for enlisted Marine reservists at this academy, which offers three reserve courses: Advanced, Career and the Sergeants' Reserve.
Contact: Staff Noncommissioned Officers Academy, 703-784-2875; DSN 278-2875; www.mcu.usmc.mil
Navy Senior Enlisted Academy. The school has a six-week course focused on communication skills, leadership and management theories, national security affairs and Navy programs. A correspondence version is available for those unable to attend the residence course. The academy is open to active-duty and reserve E-8s and E-9s from the Air Force, Army, Coast Guard and foreign navies. Students are selected in November and May.
Contact: Navy Senior Enlisted Academy, 401-841-4221; DSN 948-4221; www.usnwc.edu/SeniorEnlistedAcademy.
STAFF COLLEGES
Air Command and Staff College. This school provides intermediate development education for select midcareer officers, normally majors. The 10-month course admits about 600 students each year. Selection is competitive. The college has one resident and one nonresident school.
Contact: Air Command and Staff College, 334-953-2295; www.au.af.mil/au/acsc.
School of Advanced Air and Space Studies. This is the most advanced Air Force school. Selected students attend a one-year residence program focused on airpower and warfare.
Contact: 334-953-7537; www.au.af.mil/au/saass.
Army Command and General Staff College. This is the Army's senior tactical institution. It develops war-fighting skills at corps and division levels in a 10-month curriculum that includes the Command and General Staff Officer's Course. Limited opportunities exist for reservists to attend in residence.
Contact: U.S. Army Command and General Staff College, 913-684-5700; www.cgsc.edu.
Army Management Staff College. With the main campus at Fort Belvoir, Va., this school offers the Civilian Education System, a sequential leader development program for Army civilians in four courses: Foundation, Basic, Intermediate and Advanced.
Contact: Registrar at 703-805-4757; e-mail: AMSCRegistrar@conus.army.mil; www.amsc.belvoir.army.mil.
Marine Corps Command and Staff College. Located in Quantico, Va., the college offers a 10-month intermediate course and an advanced intermediate course of professional military education to field-grade officers. Its resident schools are the Command and Staff College and School of Advanced Warfighting.
Contact: 703-784-6836; www.mcu.usmc.mil/Pages/CSC.aspx.
Marine Corps College of Continuing Education. This is the Corps' primary institution for Advanced Distributed Learning. It designs, develops, delivers and manages distance learning products and programs via a global network of satellite campuses, learning resource centers and video tele-training centers.
Contact: The Marine Corps College of Distance Education and Training, www.tecom.usmc.mil/cdet/.
MarineNet. This enterprise delivery network allows active and reserve Marines to access Professional Military Education classes, computer training and professional development and job aids from a computer.
All personnel entered in the Defense Enrollment Eligibility Reporting System (DEERS) database are authorized to use MarineNet for free. Family members can take online professional and personal development courses in addition to L.I.N.K.S., or Lifestyles Insights Networking and Skills, a course for Marine spouses. Many online courses are accepted for college credit.
Contact: Help desk, 888-435-8762; www.marinenet.usmc.mil.
Navy College of Naval Command and Staff. See Naval War College, below.
WAR COLLEGES
Air War College. The Air Force's senior professional school divides studies into five core and four elective blocks of instruction, including a regional studies seminar and graduate-level research project. The nonresident program serves 6,000 students through seminar and correspondence courses.
Contact: 334-953-2119; DSN 493-2119; www.au.af.mil/au/awc/awchome.htm.
Army War College. The Army's senior service college for civilian leaders, lieutenant colonels and colonels offers graduate-level education in a 10-month resident program or two-year distance learning program, as well as a nonresident course open to reservists.
Contact: Registrar, U.S. Army War College, www.carlisle.army.mil.
Marine Corps War College. This 10-month, senior service school provides Phase I (Senior Level) Joint Professional Military Education.
Contact: Marine Corps War College, 703-784-6836; www.mcu.usmc.mil/mcwar.
National Defense University. This school offers advanced national security studies, focusing on policymaking and strategy, with an emphasis on joint and interagency perspectives.
Contact: National Defense University, 202-685-2128; www.ndu.edu.
Naval War College. This school, in Newport, R.I., is a 10-month professional military education resident program that meets both the Navy senior-level and the statutory requirements for JPME Phase II. The interdisciplinary graduate-level curriculum focuses on strategy and policy, national security decision-making and joint military operations.
Students are O-5 and O-6 military and U.S. government civilian employees, who begin in August, November or March. They are joined by almost 50 international officers. The course is designed to produce broadly educated leaders who possess a strategic perspective, underpinned by strategic analytical frameworks. Graduates apply disciplined, strategic-minded critical thinking to challenges in multiservice, multiagency and multinational environments, and they are prepared to be able strategic planners and joint war fighters who are effective maritime advocates. Graduates may earn a master's degree in national security and strategic studies.
Contact: www.usnwc.edu; www.usnwc.edu/academics/colleges/cde/overview.aspx; www.usnwc.edu/fleetseminar.
Navy College of Naval Command and Staff. The Navy's intermediate school is part of the Naval War College. Between 240 and 260 midgrade officer and career civilian equivalents attend each class.
Contact: Naval War College, www.nwc.navy.mil/academics/colleges/cncs.aspx.