2012 Insider's Guide to the Guard and Reserve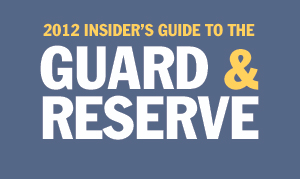 Joining Up

Pay and Benefits

Support Services

Education

Activation and Deployment

Rights and Responsibilities

Separation

Retirement
Activation and deployment
TYPES OF ACTIVATION
INVOLUNTARY ACTIVATION
Most activations for war or other emergencies are inherently involuntary. Only the president or Congress can order reservists to active duty for an extended period.
The secretary of defense or any service secretary can call up reservists for no more than 15 days, with the exception of the Coast Guard Reserve. Coast Guard Ready Reserve members can be involuntarily activated to support domestic emergencies and may be required to serve up to 30 days in any four-month period or up to 60 days in any two-year period.
FULL MOBILIZATION: 10 U.S.C. 12301(a)
If a war or national emergency is declared by Congress, all reserve component units are eligible for involuntary call-up. They can be kept on active duty for the duration of a declared war or emergency, plus six months.
PARTIAL MOBILIZATION: 10 U.S.C. 12302
If the president declares a national emergency, this type of authority allows a partial mobilization of up to 1 million Selected Reserve and Individual Ready Reserve troops. Under this authority, reservists can be kept on active duty no more than 24 consecutive months.
PRESIDENTIAL RESERVE CALL-UP AUTHORITY: 10 U.S.C. 12304
Under this type of authority, the president can activate up to 200,000 members of the Selected Reserve and up to 30,000 members of the Individual Ready Reserve, who can be kept on active duty for up to 365 days for any mission deemed necessary. Two new authorizations fall under this authority and apply to all DoD components.
ARMED FORCES IN DISASTER RESPONSE: 10 U.S.C. 12304(a)
The secretary of defense may involuntarily activate any Ready Reserve units and individuals under federal authority to respond to a domestic emergency or major disaster for up to 120 days. A state governor or territorial chief executive must first make a request for such support.
ASSURED ACCESS AUTHORITY: 10 U.S.C. 12304(b)
The service secretaries may involuntarily activate Selected Reserve units (not individuals) other than during times of war or national emergency for &ldquo:preplanned missions" in support of a combatant command. The maximum call-up is 365 days. No more than 60,000 Selected Reserve troops can be activated under this authority at any one time.
VOLUNTARY ACTIVATION
Reservists can volunteer for activation. Volunteers often are needed for positions in active-duty and Reserve units that are deploying.
With the approval of their commanding officer, qualified reservists can apply for vacant slots. Sometimes those in nondeploying units with needed skills will be contacted through their chain of command and offered a call-up position.
NOTIFICATION
A unit usually is put on alert before it is activated. Once it is on alert, activation can come within hours or days, but units often are alerted months before activation or deployment.
All National Guard and Reserve units have an alert notification system. Reservists normally are alerted by their chain of command via a phone call, followed by an Automatic Digital Network message or certified letter. Your unit should have your current home and work addresses and phone numbers.
You are required to notify your employer, school and/or landlord after your orders are in hand. Tell them what you can, including deployment dates. Employers with questions can contact your commanding officer.
Reserve component members called or ordered to active duty for more than 30 days in support of a contingency operation must be given at least 30 days' advance notice, with a goal of 90 days' advance notice.
But that requirement can be waived by the secretary of defense "during war or a national emergency declared by the president or Congress, or to meet mission requirements."