2012 Insider's Guide to the Guard and Reserve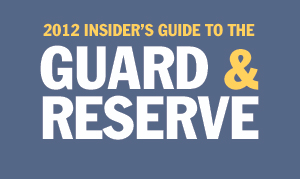 Joining Up

Pay and Benefits

Support Services

Education

Activation and Deployment

Rights and Responsibilities

Separation

Retirement
Pay and Benefits
OTHER ALLOWANCES
CLOTHING ALLOWANCE
All officers receive an initial payment of $400 after commissioning to buy uniforms and insignia. Enlisted members are provided the uniforms, shoes, boots and insignia they need at no charge when they enter a reserve component, unless they enlist directly from active duty. As a result, enlisted members usually are not eligible for clothing replacement allowances unless they are called to extended active duty for a statutory tour.
If they do become eligible for replacement allowances, the subsidy is prorated for their time on active duty. The allowances vary by service and gender.
National Guard members discharged after an enlistment are required to turn in certain uniform items. Check with unit administrators for details.
ConUS COLA
Reservists ordered to active duty in the continental U.S. may be eligible for a cost-of-living allowance, depending on where they live.
The ConUS COLA is paid to personnel assigned to high-cost locations in the continental U.S. (Alaska and Hawaii are considered "overseas" locations for the purposes of COLA payments.)
In 2012, the allowance is paid in 51 high-cost locations. Monthly rates start at $18 for single, junior enlisted members and run to $700 for married senior officers in the most expensive location, Staten Island, N.Y.
A list of qualifying locations and allowance rates is online at www.militarytimes.com/money. Click on "Pay Charts."
FAMILY SEPARATION ALLOWANCE
Reservists deployed for more than 30 days qualify for Family Separation Allowance at the rate of $250 per month, tax-free. Payments are prorated for any partial months deployed.
PER DIEM
Per diem is a daily allotment to cover the cost of food, incidental expenses and lodging while members are on government business or temporary duty away from their home stations.
The allowance ranges from $1 a day in Antarctica to $607 a day in Awashima, Japan. But per diem rates generally run between $100 and $300.
Per diem rates, also known as Lodging-Plus, are based on food and lodging costs, which are gathered annually and reviewed monthly. For each area, there is one rate for lodging and one for meals. The combined amount is the per diem.
Lodging costs are reimbursed with a maximum amount set for each area. Personnel traveling in areas for which no specific rates are set receive the standard maximum of $109 per day.
For per diem travel rates in both the U.S. and abroad, use the Defense Travel Management Office's per diem rates calculator at www.defensetravel.dod.mil/site/perdiemCalc.cfm.
If lodging expenses are less than the standard per diem rates, personnel are reimbursed only for actual costs. If the expenses exceed the standard rate, service members are not reimbursed for the difference without specific approval of the expense.
The services can authorize up to 300 percent of the maximum per diem in unusual cases, as when a member must travel to an area where no lodging is affordable at the normal maximum per diem.
When lodged on base and fed in a dining hall, members are reimbursed for the cost of the government meal rate, which is $10.80 in 2012. Within the continental U.S., members also receive $3.50 a day for incidental expenses.
TRAVEL
The government pays for official travel on airplanes, trains, cars and ships, with some restrictions. In general, the type of transportation used must be the least expensive option that is timely and appropriate.
Government travelers can make personal use of frequent-flier miles accrued during government travel.
The service secretaries are authorized to reimburse certain members of the Selected Reserve for travel expenses incurred while performing inactive-duty training (drills) outside the normal commuting limits of their home stations.
The maximum reimbursement is $300. To qualify, Selected Reserve members must meet one of three criteria: be qualified in a skill designated as "critically short"; be assigned to a Selected Reserve unit, or be in a paygrade, that has a critical manpower shortage; or be assigned to a unit or position that is disestablished or relocated under base-closure or force-restructuring actions.