2012 Benefits Handbook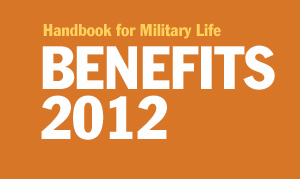 Pay and Benefits

Support Services

Education

Health Care

Housing

Recreation

Moving

Retirement
Pay and benefits
Basic Pay and Allowances | Other Allowances | Other Pay | Other Benefits | Withholdings and Taxes
Military pay, in its most general sense, consists of hundreds of pays, allowances, bonuses and incentives, and these can change over the course of a career. But almost everyone receives three types from start to finish.
Support Services
Military Services | Private Services
The White House's "Joining Forces" initiative has put the needs of military families in the forefront of the minds of Americans. The initiative has raised awareness of some of the challenges military families face, but it aims to rally support around the military, too, in whatever ways individuals or groups can provide. There has also been a big push for federal agencies and companies to hire military spouses.
The new attention is welcome, but over the years, the Defense Department, the services and private organizations already had developed many programs to help service members and families meet a variety of needs.
Many long-standing spiritual, legal, financial, employment and other resources are available to help service members and families meet the challenges and enjoy the rewards of military life. With today's persistent budget issues, officials are evaluating programs to ensure they meet the needs of service members and families.
DoD's community relations website links deployed troops and their families to private organizations offering a wide variety of support. Find it at www.ourmilitary.mil.
Education
Dependents | Military - Personal | Military - Professional
Everything you need to know about your education benefits.
Health Care
Tricare Options | Tricare - Other | Tricare Glossary | Other Medical
The military's Tricare health system consists of a combination of military hospitals, clinics and civilian professionals. Those eligible include active-duty family members, retirees and their families, some former military spouses, certain survivors, and Medal of Honor recipients and their immediate families.
Active-duty members have priority at military treatment facilities, followed by active-duty family members enrolled in Tricare Prime. If an MTF is unavailable or if they choose civilian care, families and retirees enrolled in Prime can select a civilian Tricare network provider.
Drilling National Guard and reserve members and their families are eligible for Tricare Reserve Select.
Tricare For Life covers beneficiaries who are entitled to Medicare Part A, regardless of age. If eligible for Medicare Part A, beneficiaries (other than active-duty family members) must buy Medicare Part B outpatient insurance to keep Tricare coverage.
The three basic Tricare health plans remain Tricare Prime, Tricare Standard and Tricare Extra. An individual can pay less by using a restricted network of military and civilian doctors under Prime, pay more for a wider selection of authorized providers under Standard, or save some money with Extra, selecting from a choice of network providers.
The three plans are available in the U.S., but Prime is not in every U.S. location. All three have a cap on how much a family pays out of pocket each fiscal year, depending on the sponsor's status and the type of Tricare program used.
Outpatient care at military facilities is free, with minimal charges for inpatient care. Treatment in civilian facilities generally means more out-of-pocket costs. However, active-duty family members in Prime pay nothing for civilian care received through that program.
Housing
Allowances | Base Housing | Off-Base Housing
Should you live on base? Off base? No matter which way you go, the services offer many programs and benefits to ensure that adequate and affordable housing is available to you.
Recreation
Fitness and leisure activities are critical for personal health and well-being in the military community. Active living can help reduce stress, loneliness, obesity and depression and build self-esteem and esprit de corps.
The recreation programs include activities for fitness and relaxation – ranging from bowling, exercising, skiing and golfing to arts and crafts, travel discounts and catching a movie. Many programs – such as fitness and recreation, Internet cafes, movies and library services – deploy with the troops.
Officials also are working with medical personnel, wounded warrior units, community parks and recreation, and nonprofit groups to ensure wounded and injured service members can engage in recreation and sports.
In some cases, installations tailor programs to help wounded warriors and their families. For example, the Army teaches managers at arts and crafts centers to work with wounded warriors in their Resiliency Through Art program, which is open to all troops and families. The curriculum, provided through the American Art Therapy Association, is geared to helping people of all ages cope with challenges, build personal strengths and connect with others.
In an effort to help troops returning from deployment burn off stress in a safe and healthy way, defense officials are encouraging the services to offer high-adventure programs, such as rock climbing, caving, paintball, white-water rafting and more.
Normally, these are called morale, welfare and recreation activities. But many programs have specific names. Profit from the money customers spend at these facilities is reinvested in the programs. MWR funding also comes from a portion of the profit from exchange and concession sales on bases.
If you're not sure whether your base offers a particular program, call the MWR office for more information. On Air Force bases, call the Services division.
Not every facility or program is found on every base; offerings are tailored to the installation and often depend on available funds.
Moving
Transportation | Household Goods | Family Member | Relocation | Allowances | Assistance
One thing military members can count on is that they will move. Frequently. A successful move requires planning and timely action. The Defense Department provides a tool for a smoother move with less stress: move.mil, which allows service members to arrange and manage their moves online.
Retirement
In return for your years of service, the military offers an array of benefits, including a pension adjusted annually for inflation, money for college, health care coverage and more.