2012 Benefits Handbook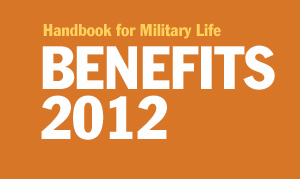 Pay and Benefits

Support Services

Education

Health Care

Housing

Recreation

Moving

Retirement
Health Care
OTHER MEDICAL
AGENT ORANGE
Veterans who believe they have health problems stemming from exposure to herbicides during the Vietnam War can get free exams at VA hospitals and clinics.
Some veterans may be eligible to receive free follow-up health care if a physician determines their illness may be related to Agent Orange exposure.
Diseases that merit compensation can be found at www.va.gov/agentorange. Some have a time limit for onset, starting the day the veteran left Vietnam. The veteran does not need to have been diagnosed within the time limit if a medical professional states the disease began within that limit.
VA operates a "fast track" health benefits claims system for three diseases that are automatically presumed to be related to Agent Orange exposure in Vietnam: Parkinson's disease, B-cell leukemia and ischemic heart disease. The system is Web-based. Any veterans who served in Vietnam or its inland waterways between Jan. 9, 1962, and May 7, 1975, can use this website to apply for disability benefits for these conditions.
Complete information on the system can be found online at https://www.fasttrack.va.gov/AOFastTrack .
Children of Agent Orange-affected veterans who suffer from spina bifida, a potentially disabling birth defect, may qualify for VA compensation. Severely disabled children can receive $1,678 per month; less-disabled children can get $984 per month; mildly affected children can get $286 per month.
Children with certain birth defects born to female Vietnam veterans also are eligible for compensation ranging from $131 to $1,678 per month.
Contact: www.va.gov/agentorange
AIDS
All prospective recruits, active-duty members and reservists are tested for the human immunodeficiency virus that causes AIDS. If an initial test is positive, it's repeated to confirm the result.
Applicants who test positive for HIV are rejected for service.
Active-duty members with evidence of HIV infection in their blood serum are referred for a medical evaluation to ensure they are fit to continue military service. A member declared physically fit for duty cannot be separated solely because of positive test results.
Infected individuals are examined every six to 12 months to see if they have contracted an AIDS-related illness. Service members infected with HIV cannot deploy overseas, except to Puerto Rico.
Infected service members determined physically unfit for duty are medically retired or separated.
DEERS
Access to military medical programs is controlled by the Defense Enrollment Eligibility Reporting System.
Active-duty members automatically are entered in DEERS when they join the service. Family members who qualify as dependents must be signed up. This includes newborns who must be enrolled before claims for their care can be processed under Tricare. Enrollment means completing a short form available at personnel offices.
For address changes:
♦Visit your local uniformed services ID card facility.
♦Go to the Tricare website, www.tricare.mil/DEERS , or the Defense Manpower Data Center website,www.dmdc.osd.mil/appj/address/index.jsp
♦Write to DSO, Attn: COA, 400 Gigling Road, Seaside, CA 93955-6771.
♦Contact the DEERS Beneficiary Support Center, 800-538-9552; fax 831-655-8317, 9 a.m. to 6:30 p.m. EST, Monday through Friday.
Contact: For DEERS enrollment status, 800-538-9552; for Alaska and Hawaii, 800-527-5602; for California, 800-334-4162. Be sure to have the sponsor's Social Security number on hand.
DISABILITY COMPENSATION
Veterans should file disability claims with VA officials promptly. If a disease is recognized as presumptive for service-connection, benefits are retroactive to the date of filing.
VA disability benefits are tied to inflation and are adjusted each Dec. 1, assuming inflation increases. In 2011, disability compensation rates rose by 3.6 percent.
For veterans with no family members, monthly payments range from $127 for those rated 10 percent disabled to $2,769 for those rated 100 percent disabled. Payments are larger based on the number of family members a veteran has.
Contact: VA maintains a website with listings of all compensation tables at www.vba.va.gov/bln/21/rates/
FISHER HOUSE
The military and the nonprofit Fisher House Foundation provide some relief for active-duty and retiree families with seriously ill or critically injured loved ones, providing temporary lodging and support near military medical centers. These privately funded lodgings are known as Fisher Houses, after founders Zachary and Elizabeth Fisher, a civilian couple who wanted to help service members.
Fifty-six Fisher Houses are now located at 18 military installations and 21 VA medical centers in 21 states, the District of Columbia and Germany, serving more than 11,000 families per year. Families stay free at any Fisher House.
Contact: 888-294-8560; www.fisherhouse.org
GULF WAR ILLNESSES
More than 200,000 veterans have been seen in military or VA medical facilities for care related to service in the 1991 Persian Gulf War. Both VA and the Defense Department are trying to track sick Gulf War veterans and do research to help determine possible causes for their illnesses.
Gulf War veterans, and those who served since then in wars in Iraq and Afghanistan, qualify for free VA care if VA finds that their condition may have resulted from exposure to a toxic substance or environmental hazard. Ill spouses and children of Persian Gulf War veterans also receive free health exams at VA centers.
Some illnesses are presumed connected to service and thus compensable. Gulf War veterans with certain chronic but undiagnosed illnesses, or illnesses defined by a cluster of symptoms, such as chronic fatigue, irritable bowel syndrome or fibromyalgia, are eligible for VA disability compensation if the condition manifests during service or by Dec. 31, 2016.
Gulf War veterans who develop amyotrophic lateral sclerosis, or Lou Gehrig's disease, also can be compensated under a presumption of service connection.
VA publishes a periodic newsletter, the "Gulf War Review," to update veterans on research and available benefits.
Contact: See the Pentagon's Gulf War illnesses information website,www.gulflink.osd.mil, and VA's Gulf War section at www.va.gov/gulfwar. VA also has a toll-free help line at 800-749-8387.
HERO MILES
The Fisher House Foundation runs a program that provides free airline tickets to troops undergoing treatment at a military or VA medical center incident to service in Iraq or Afghanistan, and their families. Passengers from the general public donate their frequent flier miles to the program.
Contact: www.fisherhouse.org/programs/hero-miles
ILLICIT DRUGS
Service members are tested for drugs when they join the military and then randomly throughout their careers.
The services use a two-step system to identify drug users: first, a screening test; then, if a sample tests positive, a more sensitive and specific test to confirm drug use. Urine specimens are given under direct observation.
An active-duty member who tests positive for drugs may face court-martial or nonjudicial punishment, which can lead to an administrative or punitive discharge. Detoxification, if required, is provided in a military treatment facility. Longer-term rehabilitation and treatment will be offered through the Veterans Affairs Department.
Outpatient counseling for family members with drug problems is available.
LODGING
LONG-TERM CARE INSURANCE
Active-duty and retired service members, federal employees and retirees may purchase long-term care insurance for themselves and their families through the Office of Personnel Management's Federal Long Term Care Insurance Program.
The program covers expenses associated with long-term care delivered in or outside the home, at adult day care centers, assisted-living facilities or nursing homes. Long-term care is not covered by many medical insurance plans, including Medicare and Tricare.
Federal employees can purchase the insurance for themselves, spouses, children and parents. Federal retirees can enroll only themselves and spouses.
The program does not have regular open enrollment seasons. However, certain categories of people are eligible to apply at any time. Applicants must answer health-related questions and may need to provide medical records or be interviewed.
Premiums are based on the enrollee's age when coverage is purchased.
Contact: www.opm.gov/insure/ltc
MALPRACTICE
A 1950 Supreme Court ruling known as the Feres Doctrine forbids active-duty members who suffer personal injury through the fault of another service member from suing the government for damages. This includes medical malpractice or negligence by military health care providers.
Active-duty members can be compensated in other ways for malpractice – retirement disability, for example. If they are severely injured by malpractice, they are entitled to certain Social Security and VA benefits.
A federal appeals court in early 2002 carved out an exception to the Feres Doctrine, ruling that service members can sue the government if their privacy rights have been violated. While active-duty members cannot sue the government for malpractice, family members and retirees can sue for personal injury compensation in cases of medical malpractice or other negligence by a government employee.
To file a claim, family members and retirees fill out a form at a base claims office, stating the basis for their belief that malpractice occurred and asking for a specific amount in damages.
A claim must be filed within two years of the alleged malpractice. Retirees can file only for malpractice that occurred after they retired.
The military has six months to review a claim. If a settlement offer is unsatisfactory, individuals can negotiate for more. If still unsatisfied, they can go to court. Also, if the military makes no offer within six months, individuals can sue.
In 1991, the Supreme Court ruled that military family members cannot sue service doctors overseas. However, in cases of medical care provided overseas, family members may file administrative claims for compensation.
In these cases, family members dissatisfied with a claims decision can appeal to the service secretary or judge advocate general, depending on the size of the claim. The decision in such an appeal is not subject to court review.
MEDICARE/SENIOR CARE
Most military retirees become eligible for Medicare when they turn 65. Some, however, qualify much earlier because they have certain disabilities. In either case, Tricare will help pay the balance of medical bills after Medicare has paid its portion as long as the retiree is enrolled in Medicare Part B.
Other health programs for which military retirees may be eligible include:
♦Tricare Plus. This program allows retirees to enroll for primary care services at certain military treatment facilities if the local commander determines there is room. It does not guarantee specialty care.
♦Uniformed Services Family Health Plan.
SUBSTANCE ABUSE TESTING AND TREATMENT
The military services offer inpatient or outpatient alcohol treatment at most installations as well as counseling for prescription drug dependency.
Detoxification is required of service members diagnosed as alcohol-dependent. Many facilities also offer special programs for spouses and teenage children. Family members with alcohol problems may get outpatient counseling at military facilities. Inpatient treatment may be available at the nearest military facility.
Tricare has a website offering information on alcohol abuse and promoting responsible drinking.
Service members are tested for drugs when they join the military and then randomly throughout their careers.
Contact: www.tricare.mil/substanceusedisorders
TOBACCO
Since the early 1980s, the Defense Department's tobacco-cessation campaign has succeeded in reducing the number of smokers and smokeless tobacco users. The campaign includes tobacco-cessation programs as well as education and counseling services.
At www.ucanquit2.org, tobacco users can develop a personalized plan for quitting, play games, listen to podcasts, connect to online cessation programs and chat with a trained cessation counselor.
Tricare also has information, links and a list of some smoking-cessation programs offered by the services at http://www.tricare.mil/healthyliving/tobaccocessation.
VETERANS BENEFITS
Most military retirees, as well as veterans who did not stay in the military for a full career, must apply for enrollment in the VA health system to receive VA health care under the Uniform Benefits Package.
Enrollment applications can be obtained through the nearest VA care facility's benefits office or by calling toll-free 877-222-8387.
Veterans are not required to enroll if:
♦They have a service-connected disability rated by VA at 50 percent or more.
♦They have been out of service for less than a year after discharge for a disability incurred or aggravated in the line of duty, but that VA has not yet rated.
♦They are seeking care from VA only for service-connected disabilities.
The order of priority for care:
♦Priority 1: Veterans with service-connected conditions rated 50 percent or more disabling or who have been determined by VA to be unemployable due to service-connected conditions.
♦Priority 2: Veterans with service-connected conditions rated 30 percent to 40 percent or more disabling.
♦Priority 3: Former prisoners of war, recipients of the Purple Heart or Medal of Honor, and veterans: with service-connected conditions rated 10 percent or 20 percent disabling; discharged from active duty for a disability incurred or aggravated in the line of duty; or injured as a result of VA treatment or participation in a VA vocational rehabilitation program.
♦Priority 4: Veterans receiving aid and attendance or housebound benefits and veterans who have been determined by VA to be catastrophically disabled.
♦Priority 5: Veterans who are receiving VA pension benefits; are eligible for Medicaid programs; or whose income and assets are below the established dollar thresholds.
♦Priority 6: Veterans who have zero-percent service-connected conditions but are receiving VA compensation; are seeking care only for disorders relating to Ionizing Radiation and Project 112/SHAD; are seeking care for Agent Orange exposure in Vietnam; are seeking care for Gulf War illnesses or for conditions related to exposure to environmental contaminants during service in the Persian Gulf; or served in combat in a war after the Persian Gulf War or during a period of hostility after Nov. 11, 1998, for two years following discharge or release from the military; and veterans discharged from active duty on or after Jan. 28, 2003, for five years after discharge.
♦Priority 7: Nonservice-connected veterans and zero-percent noncompensable service-connected veterans with income exceeding the threshold for the VA means test established by law, and below the Housing and Urban Development Department's geographic income limit, or with income below both the VA threshold and the HUD low-income limit, whose net worth plus income exceeds $80,000 and who agree to pay specified co-payments.
For more information on HUD geographic income limits, visit www.huduser.org/datasets/il/il12/index.html
♦Priority 8: Higher-income veterans who seek care for illnesses unrelated to military service. Veterans whose income and net worth exceed both the VA means test threshold and HUD's geographic means test threshold can enroll in the VA health care system in this priority group if they agree to pay specified co-payments. The income thresholds can be found at: www.va.gov/healthbenefits/resources/publications.asp.
Income levels are adjusted annually on Jan. 1 by the same percentage by which VA raises its pension benefits.
Veterans who do not qualify for free or reduced care must agree to pay VA a co-payment equal to what they would pay under Medicare.
They also must pay $10 for each day in the hospital. A patient is charged half the Medicare co-payment for each subsequent 90 days spent in the hospital in the same 365-day span.
Veterans with incomes above the means test threshold but below VA's geographically based income thresholds have reduced co-payment obligations – 20 percent of the full inpatient rate.
Veterans who are not considered needy and are not being treated for service-connected problems are not charged for preventive care visits, such as flu shots and laboratory tests. But they must pay for other office visits. Outpatient primary care costs $15 a visit; outpatient specialty visits cost $50.
Starting in 2012, VA began distributing personalized benefits handbooks for veterans enrolled in the system. The new publications are tailored specifically to the veterans' current status and disability rating.
Contact: http://www.va.gov/healthbenefits/apply
The VA handbook "Federal Benefits for Veterans and Dependents," can be found at www1.va.gov/OPA/publications/benefits_book.asp or contact VA at 877-222-8387.
WOUNDED WARRIORS
For wounded service members and their families navigating the systems that provide their health care, the Defense Department and the military services have programs intended to provide help and support as they prepare to return to active duty or to civilian life.
They are:
♦Army Wounded Warrior Program: http://wtc.army.mil/aw2/
♦Marine Corps Wounded Warrior Regiment: www.woundedwarriorregiment.org
♦Navy Safe Harbor Program: http://safeharbor.navylive.dodlive.mil/
♦Air Force Wounded Warrior Program: www.woundedwarrior.af.mil/
♦The Defense Department's Military Severely Injured Center can provide assistance and connections to the services' programs. Call toll-free 888-774-1361; overseas: 0-800-888-0013, press 05 to make a toll-free call to the U.S., then enter 888-774-1361 or email severelyinjured@militaryonesource.com.
Services are free. Regional counselor-advocates also are available at select military treatment facilities and VA hospitals.
♦Warrior Navigation and Assistance Program: Operated by Humana Military Healthcare Services for those in the Tricare South region, helping active-duty, Guard and reserve members get information and access to high-quality health care, offering personal guidance and problem solving.
Contact: www.humana-military.com/South/bene/TRICAREPrograms/wnap.asp, or 888-4GO-WNAP
♦Computer/Electronic Accommodations Program (CAP): Helps provide assisting technology to returning wounded service members with injuries that caused vision or hearing loss, dexterity impairments, including upper-extremity amputees, as well as communication and cognitive difficulties.
The program works with Pentagon and Veterans Affairs Department officials to help in the re-employment process. If the service member stays on active duty or becomes a federal civilian worker, CAP can provide work-related accommodations to the federal agency free for internships and/or permanent employment.
Contact: http://cap.mil/wsm
♦"A Handbook for Injured Service Members and Their Families" is designed to help wounded warriors and their families navigate the bureaucracy to get benefits they have earned.
The handbook was prepared free by a New York-based law firm. The nonprofit charity the Intrepid Fallen Heroes Fund has it online, downloadable for free, at www.fallenheroesfund.org/Family-Resources.aspx.