2012 Benefits Handbook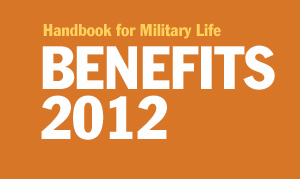 Pay and Benefits

Support Services

Education

Health Care

Housing

Recreation

Moving

Retirement
Moving
FAMILY MEMBERS
CHILDREN
Many military families make decisions about where they will live based on the educational needs of their children. The Military Child Education Coalition has a number of tools for parents to find information about specific schools at www.schoolquest.org/state-education-resources.
Making connections as soon as possible with your child's new school, and asking about academic requirements, sports and other tryouts, special testing and transfer of academic credits, can ease your child's transition. It's also important to inform officials at your child's current school that you're moving, so they can prepare your child's documents and make other needed preparations.
Information about helping your family prepare for and adjust to relocation is on the Defense Department's website, www.militaryhomefront.dod.mil. Click on "Troops and Families" to find information ranging from details on installations to financial preparations to finding child care.
In addition to the Military Child Education Coalition, www.militarychild.org, organizations such as the National Military Family Association, www.militaryfamily.org, can provide information and other resources.
(See Support Services chapter)
PETS
Stateside. Service members must move pets at their own expense, although the cost is tax deductible. Most states have laws governing the entry of animals. Most require up-to-date rabies vaccinations for dogs and cats and interstate health certificates for dogs and horses. Some states inspect all animals crossing state lines.
Overseas. For a fee, the Air Force's Air Mobility Command allows service members on a permanent change-of-station move between the U.S. and a foreign country to transport up to two dogs and/or cats in the cargo compartment of military aircraft. A space-available pet program allows families to book a third pet 15 days before departure.
Regardless of where the pet is flying, the fee is $112 for pets weighing up to 70 pounds, and $224 for pets 71 to 140 pounds. Those weight limits include the weight of the pet carrier. Pet carriers must be approved by the International Air Transport Association.
Confirm your reservation as far in advance as possible. You must present a rabies vaccination certificate (DD Form 2208) or its civilian equivalent, or veterinary health certificate (DD Form 2209) at your transportation office. It is your responsibility to meet all documentation, immunization and other requirements of the destination country.
Small pets may be carried in the aircraft cabin, within limits.
Contact. More information is available on the Air Mobility Command travel website, www.amc.af.mil/amctravel.
Commercial. There are three ways to ship a pet on commercial airlines:
♦ In the baggage compartment. An excess baggage rate may be charged, even if you have no other luggage.
♦ In the passenger cabin. This is for very small pets, if airline policy permits and the pet is in a secure carrier that can be tucked under a seat.
Pet Airways, www.petairways.com, is a pets-only airline that allows pets to fly in the passenger cabin. It flies to and from nine cities.
♦ As freight in a cargo plane. Cargo holds do not always have heat and air conditioning, so this method is the riskiest for your pet. Check with the airline before agreeing to this type of shipment.
Some airlines restrict carrying pets during hot or cold months, which could endanger the animals. Some have tracking systems so you know where your pet is.
♦ Another option is to use a pet shipping company, sort of a pet travel agent. These companies do all or part of the legwork, are familiar with international laws, airline regulations and airports, and take the needs of the animal into consideration. Costs vary depending on the animal's size and weight, the airline, city of origin and destination, and any additional services requested, such as pickup and delivery of the animal.
Contact: International Pet and Animal Transportation Association, www.ipata.org.
Quarantine. Many nations require pet quarantines of two weeks to six months. For specific information, see the DoD Foreign Clearance Guide (DoD 4500.54-G).
Hawaii's 5-Day-or-Less Program allows owners to reduce the number of days a pet spends in quarantine by following procedures on a checklist. If the pet meets all requirements, it may be released directly, or after five days, to the owner. If requirements are not met, the pet may be quarantined for up to 120 days.
Japan requires pet owners to follow a strict regimen for their pets that includes getting a microchip before meeting other requirements, which are detailed at www.usarj.army.mil/organization/vet/prm2.pdf.
Base transportation offices, U.S. embassies and Humane Society offices also have information on foreign nations' pet entrance requirements. Check the Defense Department's Military Homefront website for information on specific pet restrictions at any installation.
DoD will pay up to $550 to help defray costs of quarantining.
Contact: Hawaii's Agricultural Gateway, 808-483-7151 or http://hawaii.gov/hdoa/ai/aqs/info; Japan District Veterinary Command, www.usarj.army.mil/organization/vet/import.aspx; www.militaryhomefront.dod.mil.
Pet evacuation. The government will cover the costs of shipping and quarantining pets in the event of evacuation from overseas areas due to natural disasters or civil unrest. The government may pay the costs directly or reimburse the service member.