2012 Benefits Handbook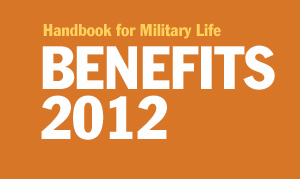 Pay and Benefits

Support Services

Education

Health Care

Housing

Recreation

Moving

Retirement
Recreation
TRAVEL PERKS
TRAVEL DISCOUNTS
In addition to discounts offered through ticket and tour offices, airline, bus, railroad, hotel and car rental companies sometimes offer military discounts to active-duty members and their families with current military ID cards. Some are as much as 50 percent off regular prices.
When making reservations, individuals should identify themselves as service members or military family members.
Discount fares are offered only to personnel paying for their own transportation. The fares often are unavailable during peak holiday travel and apply only at selected hotels.
Some military-specific websites allow you to browse for vacation rentals, resorts, cruises, airline tickets and car rentals at military discount rates:
♦ Government Vacation Rewards: Focuses more on cruises and resort vacations, as well as airline tickets and car rentals, and is available through the military exchange online mall. Search for "MWR Exchange Vacations" on the online mall pulldown menu. It's offered through a partnership with the Army's MWR command, and as always, is open to any authorized shopper, regardless of branch of service.
♦ Armed Forces Vacation Club: You can search space-available vacation rentals worldwide for as little as $369 per week, by location and available dates.
You can book these online.
Contact: Armed Forces Vacation Club, www.AFVClub.com; Government Vacation Rewards, www.shopmyexchange.com (Scroll to the exchange online mall and select "MWR Exchange Vacations" from the pulldown menu.)
SPACE-AVAILABLE TRAVEL
Space-available travel is a way for service members and their families to fly for free or for a nominal fee. It's more complicated than travel by commercial airline, but it can be considerably cheaper.
Competition for space-A seats can be intense. Many passengers awaiting space-A travel during the summer and holiday seasons may end up paying premium rates for unexpected lodging, dining and even commercial airline tickets if no space-A flight is immediately available.
The biggest disadvantage to space-A travel is that there are no reservations. Because they are subject to change due to mission requirements, space-A flights are never guaranteed. And there is also no guarantee to space-A passengers that the mission will travel the scheduled route. Space-A travelers can be bumped at any stopping point along the route to accommodate space-required passengers or cargo.
Dependents of deployed service members — including National Guard and reserve personnel — can fly space-A anywhere in the world without the service member. The member's deployment must be for at least 120 consecutive days.
This policy also applies to Navy personnel with permanent change-of-station orders serving aboard deployed ships. The space-A authorization is valid only for the duration of the deployment period of the military member.
Eligible family members may sign up for space-A travel no earlier than 10 days before the service member's deployment and are eligible to begin travel on the first day of the member's deployment. Space-A travel must be completed by the last day of the member's deployment.
Dependents must present a letter verifying the service member's deployment, signed by the member's commanding officer. Family members must keep the letter in their possession during space-A travel.
Contact: For more information, including locations and contact information for passenger terminals, visit www.amc.af.mil/amctravel.
Continental U.S. travel. Apart from the benefit for deployed families, certain family members can travel space-A within the continental U.S. when accompanied by their sponsor. Dependents of active-duty members and retirees drawing retired pay (those who are not "gray area" reservists) can travel space-A within the continental U.S. when accompanied by their sponsor.
Conditions. The primary mission of Defense Department airlift is the movement of cargo and passengers in support of operational requirements. Both military aircraft and contracted commercial aircraft support this mission. When the mission allows, unused seats aboard Defense Department-owned or controlled aircraft are offered to anyone meeting the provision of DoD 4515.13-R Air Transportation Eligibility rules.
Eligible passengers fly only in space not required for duty passengers or cargo, and only when they do not interfere with the mission.
No one should consider using space-A without having the means to switch to a commercial airline or some other form of transportation if he is bumped from a military flight.
Space-A eligible travelers may not use their privilege for personal gain or in connection with a business enterprise or employment. Also, there may be instances where space-A travel is prohibited based on international or theater restrictions.
Documents. Travelers going to and from overseas areas must know the restrictions of any foreign country visited. Status of Forces Agreement restrictions as well as U.S. State Department Travel Advisory guidelines, passport and visa requirements are all necessary areas to research before traveling abroad. Individual country entry requirements and travel advisories may be found at http://travel.state.gov.
Eligibility. Space-A is open worldwide to all active-duty members on leave and military retirees receiving retired pay, with a DD Form 2. It is also open to National Guard and reserve members on the active status list to travel within the U.S. or its territories. National Guard and reserve members who are not mobilized on active duty must have a DD Form 1853 to travel.
"Gray area" retirees — those under age 60 who have qualified for retirement but are not yet drawing retired pay — also are eligible for space-A travel within the U.S. or its territories. Once they start drawing retirement pay and are issued a DD Form 2, they are eligible for worldwide space-A travel with their family members.
Under certain circumstances, Defense Department civilians are authorized to travel space-A while on emergency leave or on environmental morale leave.
Within these broad categories of eligibility, space-A also can be used in special circumstances. For instance, family members who are command-sponsored and living with their active-duty sponsors stationed overseas can travel without their sponsor to, from and within the overseas theater. This requires a letter signed by the sponsor's commander verifying the family member's status.
Family members under age 18 must be accompanied by an eligible parent or legal guardian.
Active-duty family members who are not command-sponsored may travel to and from the service member's unaccompanied tour location. Active-duty members must obtain prior written approval for such travel from their installation commanders or designated representatives. Family members must keep the letter in their possession during space-A travel. Check with the appropriate combatant command for restrictions prior to travel.
Because service members must report to unaccompanied duty in active-duty status, family members cannot accompany them when they initially report to the unaccompanied overseas tour.
Active-duty service members must obtain prior written approval for non-command-sponsored dependent travel from their installation commanders or designated representatives.
Environmental Morale Leave program. Dependents can use space-A flights overseas under this program, which is generally authorized in areas that are considered unusually harsh for Americans.
Service members on assignment to such areas can fly space-A twice a year for a change of scenery. Unified combatant commanders determine which duty stations fall in that category and identify the places where people stationed there may travel.
Fees. The law directs that a $13 federal inspection fee must be collected from space-A passengers entering the U.S. on commercial contract aircraft. In addition, space-A passengers pay a $16.10 transportation tax when entering or departing the U.S. on commercial aircraft.
House-hunting trips. Space-A rules allow a family member to accompany the service member on house-hunting trips in the continental U.S. if the trip is related to a pending permanent change-of-station move and the member is on permissive temporary-duty orders for house hunting.
College students. The military makes some provision for full-time college students under age 23 to travel independently if their parents are stationed overseas. Base personnel offices have details.
Luggage. The Defense Department generally allows passengers two pieces of checked luggage weighing no more than 70 pounds each, and up to 62 linear inches in size. Some aircraft may have more restrictive allowances. Hand-carried baggage must fit under the seat or in the overhead compartment, if available.
Meals. Passengers who want meals on military aircraft pay a fee, usually less than $7, depending on the type of meal and travel status of the person. Meals are provided free on commercial contract aircraft.
Some terminals may have limited snack bar facilities and vending machines, so travelers should be prepared to provide their own food. Travelers with young children should be prepared for stops along the way where baby supplies are not available.
Sign-up. Service members can sign up for a space-A flight in person or by "remote space-available sign-up" at passenger processing activities, such as Air Mobility Command terminals. Flight times vary by cargo load, destination and season. Each passenger processing activity maintains a single space-A register.
Remote sign-up allows travelers to register by fax, regular mail or email. They can fax travel requests to the passenger terminal from which they plan to leave. The advantage to travelers is that they have priority for a seat from the time of receipt of the travel request.
A policy change this year requires travelers to identify their duty station on the request, or their current state/country of residence.
This ensures that passenger service agents have the information they need to adjust the date and time of sign-up for time-zone differences.
Regardless of how they sign up, service members must be on leave and have a valid military ID. They must remain on leave while waiting and until they complete the travel.
Space-A travelers can sign up for five destinations, and may change destinations with no penalty.
If signing up in person, passengers use forms available in the air terminal. The forms are stamped with the date and time the person signed up.
Travelers can sign up for all legs of a trip at once. Once a traveler departs from a particular location, his sign-up information is purged from that location and further travel will require a new registration. Service members who sign up for a flight and are not there when their names are called remain on the waiting list. Only the opportunity to take that particular flight has been lost.
Retirees and unaccompanied family members remain on the space-A register for 60 days after registration, depending on category. Service members remain on the register for the duration of their leave but no longer than 60 days.
Space-A "mark present," roll call and travel ready. Space-available roll calls are established by each port/passenger service based on passenger convenience, manpower resources, type of mission and number of seats available.
Space-A passengers competing for a seat must be "marked present" prior to roll call. Mark present must be completed at the Passenger Service Center or at the kiosk, where available.
"Roll call" signifies the start of the process in which eligible passengers in each category are selected by date and time of sign-up. This enables passengers to plan their activities and ensure equitable opportunity for all. A roll call time may vary according to different types of missions.
Passengers must be "travel ready" at the start of roll call. To be considered travel ready, passengers must have required documentation and checked baggage, and accompanying family members/group members must be present.
Appropriate attire. Passengers must not be dressed inappropriately (torn, dirty, tattered, revealing or suggestive clothing). Passenger footwear must not be of the type that could hinder emergency egress or increase chances of injury. Wearing open-toe or open-heel shoes is prohibited on military aircraft. Shoes with heels should have a wide base and be designed low to the ground. Narrow-based, high-heeled shoes are not to be worn. Patriot Express (commercial aircraft) flights have no footwear restrictions.
Passengers traveling on military aircraft should be aware that they might have to climb up and down vertical ladders to board most aircraft and dress accordingly. This restriction does not apply to Patriot Express aircraft.
Body piercing and tattoos. Examples of obvious violations must be corrected before service can be provided to male service members with earrings, or male or female service members wearing jewelry/ornamentation in the nose, tongue or any exposed body part (including items visible through clothing). Passenger agents assume service members with unauthorized/inappropriate tattoos are taking the appropriate steps to comply with their respective service's tattoo policy and will not deny them service.
Wheelchairs. Wheelchairs and other battery-powered mobility devices that do not exceed 100 pounds are accepted, provided that the battery is disconnected, battery terminals are insulated to prevent accidental short-circuits, and the battery is securely attached to the wheelchair or mobility device. Wheelchairs must be loaded and stored upright.