2012 Benefits Handbook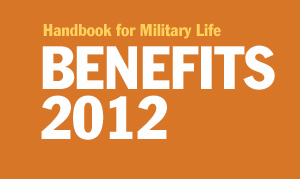 Pay and Benefits

Support Services

Education

Health Care

Housing

Recreation

Moving

Retirement
Support Services
MILITARY SERVICES
CHAPLAINS
Military chaplains are clergy, endorsed by national religious groups, who are qualified to serve as officers on active duty.
Chaplains can perform the same services as civilian clergy -- baptisms, weddings, bar mitzvahs -- but they also often deploy with the troops. They conduct religious services, offer instruction and counseling, and minister to those of other faiths, as well.
As senior members of the commander's staff, chaplains influence nonspiritual matters affecting morale and welfare, morals, ethics and quality of life. They are obligated to hold in confidence any disclosures service members and their families make in counseling.
CHILD CARE
The Defense Department Child Development Program is the largest employer-sponsored child care program in the country, serving more than 200,000 children, from newborns to 12-year-olds. It includes child development centers, family child care homes and school-age care programs on and off installations.
Defense and service officials are working to increase child care capacity at existing facilities with long waiting lists and high deployment rates, and to build new centers.
Child development centers. The Defense Department oversees more than 800 child development centers at more than 300 locations, providing care to children ages 6 weeks to 12 years old. Centers generally are open 6 a.m. to 6:30 p.m., Monday through Friday, although some have extended hours. Many offer hourly care for appointments and other needs, but space is limited and reservations are usually required.
Each center must meet nationally recognized standards for developmentally appropriate curriculum, safety and health.
Fees are calculated on a sliding scale based on total family income. Commanders have authority to charge lower fees to individual families with special circumstances.
The Defense Department sets a minimum and maximum fee range, and individual installations set their fees anywhere within those ranges. However, defense officials are moving to a single fee for child care in each of the nine income categories at installations worldwide. That has begun with the current school year, with a single fee set in each of the top three income brackets.
This year, families in the lowest annual income category, up to $29,400, pay $46 to $59 a week, regardless of the child's age. The highest range, for those with a total family income of $125,000 or more, is $139 a week.
In-home care. Military spouses can become licensed to provide child care in their homes. In-home providers operate as private contractors and set their own fees. Most, but not all, providers live on base.
School-age care. These programs for children ages 6 to 12 are held before and/or after school, during holidays and over summer breaks in youth centers, child development centers and in-home child care. The Defense Department sets fee guidelines.
Military child care community initiatives. Through a partnership with the National Association of Child Care Resource & Referral Agencies, the Defense Department and the services help troops find high-quality child care in their area and subsidizes part of the cost.
Families pay reduced fees for services delivered through state-licensed or regulated and nationally accredited programs or Child Development Associate-credentialed child care providers in their local community. Programs, eligibility and fee assistance varies among the military branches. For many programs, assistance is based on total family income and the provider's rates. These programs are not based on financial need; total family income is one factor.
Eligibility varies depending on the program and the branch of service, but generally:
♦ Fee assistance programs are provided for children up to 12 years old.
♦ The spouse must be working or enrolled in school. This also applies to unmarried parents living in the same household. Temporary assistance is available for spouses looking for work.
♦ Families must use a provider with a state child care license, who has been inspected within the last 12 months and who has registered with the National Association of Child Care Resource & Referral Agencies and meets the requirements.
Programs for child care fee assistance may also be available for families with children with special needs and for families of wounded warriors.
Contact: www.naccrra.org/military-families
♦ Sittercity.com/dod is an online source for in-home child care, pet care, senior care, house-sitting and tutoring. The Defense Department is offering premium Sittercity memberships to military families at no cost. DoD pays for these memberships, which help families find sitters; families are responsible for paying for the sitters' services. All Army, Marine Corps, Navy and Air Force families -- active, National Guard and reserve -- are eligible.
The service provides military families with instant access to nationwide, comprehensive caregiver profiles that include background checks, references, reviews, pictures and more.
The Web-based service allows individuals to make arrangements, including hiring decisions and payments. For military spouses, this is also a portable career opportunity.
To register as a sitter, visit www.sittercity.com/militarysitters.
Contact: www.sittercity.com/dod
Youth programs. These programs focus on alternative activities during out-of-school hours for the more than 500,000 military youth from ages 6 to 18. More than 350 programs exist worldwide, in partnership with the Boys and Girls Clubs of America, 4-H and other organizations.
Programs usually include physical fitness and sports, arts, recreation, training in leadership, life skills and career/volunteer opportunities, mentoring, intervention and support services. Some programs offer help in finding summer jobs.
Fees are charged to offset the cost of activities.
FAMILY CENTERS
Military service family centers provide information, education and assistance, typically for free, to help service members and families manage the challenges and enjoy the benefits of military life.
Outreach is available for those in remote or isolated areas. The centers also serve mobilized National Guard and reserve members and, in some locations, Defense Department civilians and military retirees.
As needed, the National Guard sets up family assistance centers to help families of all components. The National Guard also has permanent family assistance coordinators.
Each service calls its family centers something different: Army Community Service Centers; Marine Corps Community Services Centers; Navy Fleet and Family Support Centers; Air Force Airmen and Family Readiness Centers; and Coast Guard Work-Life Centers.
Types of assistance include:
♦ Crisis assistance for immediate, short-term help in a critical situation.
♦ Deployment and mobilization support services.
♦ Financial management education -- investing, debt, budgeting, saving and retirement planning -- via classes and individual consultations.
♦ Employment and education assistance.
♦ Information and referrals on services and resources in the community.
♦ Life skills education in parenting, stress management and other issues.
♦ Relocation assistance to help families move and adapt to new a location.
Contact: The Defense Department's www.militaryhomefront.dod.mil is a gateway to information on quality-of-life programs and services.
The individual services' family support websites are:
Army: www.myarmyonesource.com
Navy: www.cnic.navy.mil; click on "What We Do," then "Family Readiness," then "Fleet and Family Support Program."
Air Force: www.afcommunity.af.mil
Marine Corps: www.usmc-mccs.org
FAMILY READINESS OFFICERS/OMBUDSMEN
While volunteers generally do the lion's share of work helping their fellow military family members in individual units, some of the services have hired paid assistants to help ease some of the load on volunteers. The Army's family readiness support assistants provide administrative help; the Marine Corps' family readiness officers are paid civilians or Marines who act as the official link between commanders and families, and provide information and resources.
The ombudsman program, unique to the Navy and Coast Guard, is an information link between a unit's commanding officer and its members' families. These are volunteer spouses or other family members and are chosen by unit commanding officers. They are trained in effective listening and stress management, and their job is to refer those in need to the right help.
Contact: Army: www.myarmyonesource.com
Coast Guard: www.uscg.mil/worklife/ombudsman.asp
Marine Corps: www.usmc-mccs.org
Navy: www.cnic.navy.mil; click on "What We Do," then "Family Readiness," then "Fleet and Family Support Program," then "Ombudsman Program."
FAMILY SUPPORT GROUPS
Family support groups, also called family readiness groups, are made up of spouses, parents and siblings of service members. They are generally organized through a unit before a deployment. Group leaders serve as a link between families and service members' chains of command.
The Army also has rolled out a Virtual Family Readiness Group Web system, linking deployed soldiers, their families, the family readiness group leader, unit commander, rear detachment and other family readiness personnel.
The portal helps provide a sense of community for family members who are far apart, and provides a secure online venue for communication. Visit www.armyfrg.org or www.myarmyonesource.com.
FINANCIAL
Each military service has financial readiness resources in family centers and helpful information on their websites.
The Defense Department's Financial Readiness Campaign is a dedicated effort to ensure service members and their families have the necessary skills, education, tools, protections and other resources to be financially ready.
♦ Part of that effort is the Military Saves campaign, conducted in partnership with the Consumer Federation of America. Military Saves encourages members to take action throughout the year, such as opening or increasing an allotment to a savings account, enrolling in the Thrift Savings Plan or participating in the Savings Deposit Program.
Service members and their families are encouraged to visit www.militarysaves.org and register to take the "Saver Pledge." The website also features tips on saving money and achieving financial goals.
♦ Military OneSource has a wide range of financial resources to help service members and families, including financial articles, tip sheets, calculators, helpful CDs and DVDs and counseling, at no cost.
Service members and spouses can receive up to 12 face-to-face financial counseling sessions per year with a counselor in their area, or be connected to a counselor, planner or tax professional over the phone. Service members also can prepare and file state and federal tax returns online for free using Military OneSource. Call 800-342-9647 for details.
♦ Military Homefront also has useful financial readiness information and can provide access to other financial readiness partner resources. One is the Financial Industry Regulator Authority Investor Education Foundation, which maintains several programs, including www.saveandinvest.org, a website with information and tips aimed at helping service members and families make wise financial and investment decisions.
FINRA is providing free FICO credit scores to active-duty members and their spouses. Information is available through personal financial management program offices on installations and at www.saveandinvest.org/credit.
FINRA also sponsors the FINRA Foundation Military Spouses Fellowship Program, which allows spouses to apply for free scholarships to become Accredited Financial Counselors. Interested spouses can get more information and apply at www.militaryfamily.org.
Contact: www.militaryhomefront.dod.mil; click on "Personal Financial Managament" under "Troops & Families"
Air Force: www.afcommunity.af.mil/financial
Army: www.myarmyonesource.com/familyprogramsandservices/financialreadiness
Marine Corps: www.usmc-mccs.org/finance
Navy: www.cnic.navy.mil; click on "What We Do," then "Family Readiness," then "Fleet and Family Support Program," then "Personal Finances."
MILITARY KIDS CONNECT
This website aims to help military kids with deployed parents connect with peers who are also weathering the deployment of a parent. Developed by psychologists at the Defense Department's National Center for Telehealth and Technology at Joint Base Lewis-McChord, Wash., the program offers offers videos, educational tools and games, and activities for three age groups: 6 to 8, 9 to 12, and 13 to 17. Most of the site is public, but children must register and get parental approval to use the message boards. It uses filters and moderators to keep children from revealing personal information and to screen for inappropriate material and possible predators.
Contact: www.militarykidsconnect.org
MILITARY ONESOURCE
The Defense Department has a toll-free phone number and website to augment installation family support programs.
Military OneSource provides help to service members and their families for managing the everyday issues of military life, such as child care, relocating to new communities or finding an English-speaking plumber in a foreign country. They also have access to licensed counselors.
Phones are staffed 24 hours a day, 365 days a year to provide information and referrals. Translation services are available in more than 130 languages.
Contact: www.militaryonesource.com or 800-342-9647.
WOUNDED/INJURED SERVICE MEMBER SUPPORT
The Defense Department's National Resource Directory helps connect wounded warriors and their families and caregivers with those who support them. The directory website provides links to medical facilities and a variety of resources dealing with issues such as post-traumatic stress disorder.
Through Military OneSource, NRD provides a call center, with trained specialists available 24 hours a day, to answer questions or concerns during the recovery, rehabilitation and reintegration phases. Specialists will directly connect the wounded warrior, family member or caregiver to the person who can help them.
These programs and the Defense Department's National Resource Directory can help with issues such as financial assistance; employment and training; nonmedical personal, couples and family counseling; child care; government assistance; transportation; and personal or equipment needs. Services are free.
Contact: 800-342-9647 or 888-774-1361; www.nationalresourcedirectory.gov.
Air Force: www.woundedwarrior.af.mil
Army: http://wtc.army.mil/aw2/index.html
Marine Corps: www.woundedwarriorregiment.org
Navy: www.public.navy.mil/bupers-npc/support/safe_harbor
INSPECTOR GENERAL
Installation inspectors general investigate complaints that cannot be resolved through the immediate chain of command. These typically involve service members who feel they have been wronged by commanding officers or discriminated against by civilian businesses.
Contact: To make a complaint about fraud, waste or abuse, email hotline@dodig.mil, or call 703-604-8799 or 800-424-9098, 7 a.m. to 5 p.m. Eastern time, Monday through Friday. Confidentiality is provided when requested. Complaints also can be submitted confidentially at www.dodig.mil/hotline, or mailed to Defense Hotline, The Pentagon, Washington, D.C. 20301-1900.
LEGAL ASSISTANCE
Service members can get free legal advice for a variety of needs, particularly in preparing tax returns and in understanding any contract before signing it, from car loans to rental leases. Legal assistance offices also help service members with questions about their rights under the Servicemembers' Civil Relief Act.
Service branches designate lawyers to help active-duty members and, if time and resources permit, their families and retirees. Members assigned to installations too small to provide legal services can use those of any nearby installation.
Legal-assistance attorneys do not represent clients facing military or civilian criminal charges or provide assistance to clients on matters relating to private business ventures. They may be able to help service members find an attorney in the civilian community.
Contact: http://legalassistance.law.af.mil/content/locator.php
OMBUDSMEN/KEY VOLUNTEERS
The ombudsman program, unique to the Navy and Coast Guard, is an information link between a unit's commanding officer and its members' families.
These are volunteer spouses chosen by unit commanding officers and trained in effective listening and stress management.
SPECIAL NEEDS
At the direction of Congress, the Defense Department has set up an Office of Community Support for Military Families with Special Needs, which helps families navigate the maze of medical and special education services, community support and entitlements.
There's also information about enrolling in the Exceptional Family Member program. Other resources include information about respite care benefits, federal resources, state resources and the service branches' programs.
Contact: www.militaryhomefront.dod.mil/tf/efmp
SPOUSE EDUCATION
The military's My Career Advancement Accounts program (MyCAA) provides all spouses seeking to further their education with counseling on sources of education funding, expanded career choices and opportunities, and support resources.
For certain eligible spouses, it also provides financial assistance to pursue licenses, certifications or associate's degrees needed for employment in high-demand, high-growth portable career fields and occupations.
It provides a maximum education benefit of $4,000 with an annual fiscal year cap of $2,000. The annual cap can be waived if upfront tuition costs exceed $2,000 (up to the maximum benefit of $4,000). Eligible are spouses of active-duty service members in paygrades E-1 and E-5, W-1 to W-2, and O-1 and O-2.
The program will pay tuition costs for education and training courses and examinations leading to an associate degree (excluding general studies and liberal arts), license or certificate issued through an accredited college, university, or technical school in the U.S., or through an approved testing organization that expands employment or portable career opportunities.
To establish an account, visit https://aiportal.acc.af.mil/mycaa.
Contact: 800-342-9647; www.militaryonesource.com
SPOUSE EMPLOYMENT
Spouses often have difficulty maintaining a career path when relocating with their service members every few years. This issue has gotten more attention in the last year, with the White House's push to encourage employers -- from the federal government to private companies -- to hire military spouses. The U.S. Chamber of Commerce is hosting job fairs around the country focusing on hiring military spouses and veterans.
The Military Spouse Employment Partnership has taken the Army's Spouse Employment Partnership initiative to all military spouses. At www.msepjobs.com, spouses can search among thousands of jobs with companies that want to hire military spouses. Before an employer can participate in the partnership, DoD ensures it has career opportunities, a global presence near military installations, financial stability and portable job opportunities. Employers agree to maintain employment for spouses when their families relocate, or help the spouse find a similar job with a similar company.
Spouses can also contact militaryonesource for career counseling and assistance, 24 hours a day.
Contact: www.msepjobs.com; www.militaryonesource.com