2012 Benefits Handbook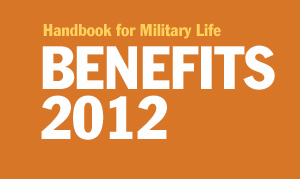 Pay and Benefits

Support Services

Education

Health Care

Housing

Recreation

Moving

Retirement
Housing
OFF-BASE HOUSING
Service members arriving at a new duty station must report to the local housing office for referral assistance before they rent or buy housing off base.
The housing office serves as a liaison between the military community and civilian real estate agents and landlords. DoD policy calls for the services to look to the local community first to provide adequate housing through aggressive referral services in base housing offices.
In many cases, installations have information on their websites about available housing in the civilian community.
Automated Housing Referral Network. Defense officials have established the free Automated Housing Referral Network to provide a central website for information on available houses for rent, connecting military renters with a wide range of rental properties in the areas near military installations in the continental U.S., Europe and the Pacific.
AHRN is accessible from any computer, but only to service members, DoD civilians, housing offices and registered property managers and landlords. Military and Defense Department civilians can search for rentals and also post notices for rentals, roommate wanted or military property for sale by owner, for free. The network operates at all continental U.S. Army, Air Force, Marine Corps, Navy and Coast Guard installations. Overseas installations include Air Force and Army sites in Europe and Air Force sites in the Pacific.
Service members can search for listings that fall within a 25 percent range of the Basic Allowance for Housing rates in a given area. The site includes listings for privatized housing and temporary lodging.
Civilian property managers post and maintain their own listings and are monitored by local military housing offices.
Contact: www.ahrn.com
HOUSING EARLY APPLICATION TOOL
The Navy has developed HEAT, a new tool to help sailors and their families apply for housing Navy-wide, at one or more locations before or after they receive their permanent change-of-station orders.
The launch of HEAT allows a sailor or spouse to tap into their records. HEAT is available for sailors and families moving to five pilot sites: Naval Station Rota, Spain; Naval Air Facility Atsugi, Japan; Naval Complex San Diego; Naval Base Kitsap, Wash.; and Naval Station Mayport, Fla. Officials aim to launch it Navy-wide.
FAIR HOUSING ACT
The Federal Fair Housing Act prohibits discrimination in renting or buying a home on the basis of race, color, sex, religion, national origin, family status or disability. Service members who think they have been discriminated against can file a complaint through their installation housing office or a local office of the Housing and Urban Development Department.
HOMEOWNERS ASSISTANCE PROGRAM
The Homeowners Assistance Program was expanded by the American Recovery and Reinvestment Act of 2009 to provide financial assistance to service members and certain Defense Department civilian homeowners who suffer financial loss on the sale of their primary residence. Benefits were expanded to reduce losses on a home sale when the real estate market has declined because of the housing market crisis; for military homeowners undergoing a permanent change of duty station; those affected by the 2005 Base Closure and Realignment Commission; wounded, injured and ill veterans with a 30 percent or greater disability; and surviving spouses of fallen warriors.
The law temporarily removes a requirement that defense officials must show that a downturn in local housing markets is caused solely by a BRAC action.
Those who qualify in the wounded warrior and surviving spouse categories can receive HAP benefits equaling up to 95 percent of the original purchase price of the home. For those in the PCS and BRAC categories, the figure is 90 percent.
Those eligible, in order of priority, are:
♦ Homeowners wounded, injured or ill in the line of duty while deployed since Sept. 11, 2001, and relocating for further medical treatment. Assistance for these homeowners has no time limits.
♦ Surviving spouses of military members or civilian employees of the Defense Department or Coast Guard who were killed in the line of duty during deployment on or after Sept. 11, 2001, or who died from a wound, injury or illness incurred in the line of duty during the deployment, if they relocate within two years of the death. Assistance for surviving spouses has no time limits.
♦ Military and federal civilian homeowners in areas affected by the 2005 BRAC actions must have been the owner-occupant of the home on May 13, 2005, and the house must be sold between July 1, 2006, and Sept. 30, 2012. Personnel must have been assigned to a BRAC-affected organization by May 13, 2005. Assistance for those affected by BRAC 2005 ends Sept. 30, 2012.
♦ Service members with permanent change-of-station orders dated from Feb. 1, 2006, through Sept. 30, 2010. One major rule: The house must have been purchased, or the contract must have been signed, before July 1, 2006. Also, the value of the home must have declined by at least 10 percent between purchase and sale dates. Assistance for those in this PCS category ends Sept. 30, 2012.
HAP payments are exempt from federal taxes but may be subject to state taxes.
How it works. The Army Corps of Engineers administers the program for the Defense Department. Service members and civilian employees who may be eligible apply for expanded HAP by downloading an application at http://hap.usace.army.mil. They complete the application and mail it to the Army Corps of Engineers, Savannah District.
There are three types of benefits available to applicants: private sale, government acquisition and foreclosure.
The private sale benefit for BRAC and PCS applicants provides a cash payment to the applicant for the difference between 90 percent of the amount paid for the home plus improvements, and the price for which the applicant sells the home. The benefit for the wounded warrior and surviving spouses is payment of up to 95 percent of the home's purchase price. The expanded HAP also reimburses applicants for normal sellers' closing costs, including real estate agent fees.
In the government acquisition option, HAP purchases the home and pays off the mortgage. The government then sells the home to the buyer that the applicant and his real estate agent found. For BRAC and PCS applicants, the program will not acquire homes unless applicants obtain buyers to whom the home can be sold. Wounded warriors and surviving spouses do not have to find buyers.
BRAC and PCS applicants who owe more on their mortgages than 90 percent of the purchase amounts find the government acquisition option advantageous. The program will acquire wounded warriors' and surviving spouses' homes for the greater of the mortgage payoff or 90 percent of their initial purchase price.
In foreclosure, HAP pays the legally enforceable liabilities resulting from foreclosure.
Contact: http://hap.usace.army.mil; email: dodhap1@usace.army.mil
LEASE PROTECTION
The Servicemembers' Civil Relief Act protects military renters in the civilian community. If a person signs a lease and later enters active duty during the term of the lease, or signs a lease and later gets orders for a permanent change-of-station move or orders for a deployment of 90 days or more, he can terminate the lease by giving the landlord written notice.
It's wise to ask legal assistance on base to review a rental contract to ensure it is consistent with local and state practices.
In the wake of the wave of foreclosures in the housing market crisis, the military will pay for local moves of household goods of renters who are forced to relocate because their rental property has gone into foreclosure. Service members in such situations should contact their legal assistance office for help.
The Servicemembers' Civil Relief Act requires a court order before a military member or dependent can be evicted during a period of military service. An exception applies if monthly rent exceeds $3,047.45. That amount is adjusted annually for inflation.
RENTAL PARTNERSHIP PROGRAM
The Rental Partnership Program helps military members get adequate rental housing at a reduced rate, but it does not mean rental housing is set aside exclusively for them. Representatives from an installation's housing office and local landlords enter into agreements to offer service members special rental benefits above what other tenants receive. This is voluntary for both landlords and tenants.
Typical benefits may include a waiver of security and utility deposits, no credit checks or application fees, a discount on market rental rates and immediate access to housing.
The agreements stipulate that neither the installation housing office nor the military is obligated to pay delinquent rent, cover damage costs or other obligations incurred by military tenants.
VA HOME LOANS
Service members and veterans who decide to buy or refinance a house are eligible for a home loan guarantee offered by the Veterans Affairs Department.
VA does not make the loans, but rather guarantees them, which minimizes lenders' risks and reduces their losses in the event of a foreclosure. The money comes from private lenders who volunteer to participate. Because of the guarantee, lenders usually are willing to offer mortgage loans without requiring a down payment.
A VA loan can be used to buy a house, town house or condominium; co-op unit; or a mobile home, with some restrictions. VA buyers and lenders can negotiate interest rates. Discount points also are negotiable and can be paid by the buyer or seller.
Generally, VA lenders will lend up to four times the available entitlement without requiring a down payment. Although VA loans generally do not require a down payment, a lender may require one.
Buyers of mobile homes not on a permanent foundation must make a minimum down payment of 5 percent.
VA does not set a maximum loan amount. However, lenders generally will lend qualified veterans up to four times a veteran's available entitlement. The basic entitlement is $36,000, so a typical ceiling for a loan with no down payment is $144,000 ($36,000 times four).
The maximum entitlement for loans above $144,000 varies by location. It is higher in counties with high median home prices. For example, a qualified veteran wanting to purchase a home in San Diego could potentially obtain a no-down-payment loan of up to $537,500. In Guam, the loan could potentially be up to $625,500. The 2012 loan limits are online at www.benefits.va.gov/HOMELOANS/docs/Loan_Limits_2012_Dec_2011.pdf
These maximums are subject to change each year. Changes are typically announced in November and December, effective the following January.
Entitlement. There is no restriction on the number of times VA-backed loans can be obtained, as long as there is enough available entitlement to obtain the loan.
A veteran who bought a home using a VA loan can sell the home, pay off the loan and thus "restore entitlement," becoming eligible for a new VA loan.
Veterans also can have their entitlement restored without disposing of the property as long as the loan has been paid in full -- but they may do this only once.
Eligibility also can be restored if the person buying the home is an eligible veteran who assumes the loan and substitutes his entitlement for that of the veteran who originally bought the home.
Funding fees. VA home loan recipients pay a funding fee similar to user fees or origination fees paid by civilian borrowers, which offset losses when borrowers default. The VA funding fee can be included in the loan amount.
The funding fee for loans with a down payment of less than 5 percent is 2.15 percent or 2.4 percent for those qualifying based on service in the National Guard or reserves. It is lower for those making down payments of 5 percent or more. VA also charges a funding fee to second-time users of the loan program. This "subsequent use" fee is 3.3 percent of the loan amount unless the veteran makes at least a 5 percent down payment, which reduces the fee.
Veterans with service-connected, VA-compensable disabilities are exempt from funding fees. Also, veterans who are still on active duty, but have been rated as eligible to receive compensation for a service-connected disability, may be entitled to a waiver of funding fees if they wish to close on a loan before leaving the military. In some states, disabled veterans also may qualify for a waiver of property taxes.
Another option for those who have VA-guaranteed home loans is the Interest Rate Reduction Refinancing Loan. This generally requires no credit underwriting and is used to lower the interest rate and payment. The funding fee is 0.5 percent. Closing costs, including up to two discount points, can be included in the loan.
Refinancing. Under the Veterans' Benefits Improvement Act of 2008, qualified veterans can refinance a loan for up to 100 percent of the value of the property. The previous limit was 90 percent of the value. The existing loan can be Federal Housing Administration, conventional or VA. This type of loan does require credit qualifying.
Also, the maximum loan amount has been raised for these refinancing loans. Previously, the maximum guaranty was limited to $36,000. Now, refinance loans are subject to the same limits for the purchase loan. This will allow more qualified veterans to refinance through VA, to save on interest costs and perhaps avoid foreclosure. Visit www.benefits.va.gov/HOMELOANS/docs/Loan_Limits_2012_Dec_2011.pdf
Another provision of the new legislation extends VA's authority to guaranty adjustable rate mortgages and Hybrid ARMS through Sept. 30, 2012.
Contact: www.homeloans.va.gov/factsheet.htm