2012 Benefits Handbook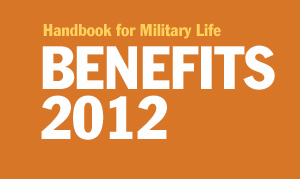 Pay and Benefits

Support Services

Education

Health Care

Housing

Recreation

Moving

Retirement
Education
DEPENDENTS
Ensuring that military children get an excellent education is a top priority for defense officials, and they have reiterated that priority this year, recognizing that education is a stabilizing influence in the lives of children, as well as important to recruitment, retention and morale for the force.
There are 1.2 million school-age children with a parent in the military. About 86,000 attend schools operated by the Department of Defense Education Activity on military installations.
School officials — both in DoDEA and in the civilian community — increasingly are working to make the transition easier for children when they move from one school to another because a military parent changes duty stations.
More than two-thirds of the states have adopted a new Interstate Compact on Educational Opportunity for Military Children — meaning they agree to implement policies to help level the educational playing field for military children as they move from one state to another. These states educate more than 80 percent of military children attending off-base schools.
Groups such as the Military Child Education Coalition and the Military Impacted Schools Association have been working with schools on a variety of issues related to military children. Defense officials also have begun working with school districts that want to learn more about helping military children in transition and in dealing with aspects of the military lifestyle.
DoD EDUCATION ACTIVITY
The Department of Defense Education Activity operates 194 schools in 14 districts located in 12 foreign countries, seven states, Guam and Puerto Rico. All DoDEA schools are on U.S. military installations, serving children of service members and Defense Department civilians. DoDEA plans, directs, coordinates and manages pre-kindergarten through 12th-grade education programs for Defense Department dependents who otherwise would not have access to a high-quality public education. DoDEA also provides support and resources to local school districts throughout the U.S. that serve children of military families.
DoDEA schools are grouped into two systems: the stateside Domestic Dependent Elementary and Secondary Schools, or DDESS, and the overseas Department of Defense Dependents Schools, or DoDDS. DoDEA schools are fully accredited by U.S. accreditation agencies.
Domestic schools. DDESS operates 70 schools, mostly elementary, at 16 installations in seven states, Puerto Rico and Cuba, serving more than 27,000 students. The schools offer pre-kindergarten through 12th grade for eligible children who live on those installations.
Overseas schools. DoDDS operates 79 schools in Europe and serves about 35,000 school-age children of active-duty military and federal civilian employees. In the Pacific, DoDDS serves more than 24,000 students in 45 schools across Japan, South Korea, Okinawa and Guam.
DoDEA schools in Europe and the Pacific are free for children of service members and federal civilian employees. Enrollment is guaranteed for "command-sponsored" children, those whom the active-duty member has official approval to bring overseas at government expense. Children without command sponsorship can enroll for free if space is available.
Age requirements. Children must be 5 years old by Sept. 1 to be eligible to enroll in and attend kindergarten in DoDEA schools. This requirement also affects students in DoDEA's pre-kindergarten, Sure Start and first-grade programs. A child must be 4 years old by Sept. 1 to attend pre-kindergarten or Sure Start and 6 years old by Sept. 1 to attend first grade.
Attendance policy. DoDEA instituted a new mandatory attendance policy in 2011, consistent with what is found in many U.S. public schools. The policy lays out expectations for students to attend 180 days per school year, unless they have excused absences.
Excusable absences include illness; medical, dental and mental health appointments; serious family illness or death; religious holidays; emergency conditions; unique family situations, coordinated with school administration; and college visits that cannot be scheduled on nonschool days. The policy accommodates the need for military families to spend time together following deployment. Failure to meet requirements can affect students' placement as they transfer out of or into DoDEA schools. For secondary school students, it could jeopardize graduation, cause a loss of course credit and affect grade-level placement. Failure to meet requirements could result in school disciplinary action such as detention, in-school suspension or expulsion.
Graduation. DoDEA's high school graduation requirement is 26 credits. For more information on required courses, visit www.dodea.edu/students/graduation.cfm
Virtual high school. DoDEA's virtual high school eventually will offer a complete curriculum of courses necessary for a student to graduate from high school. The virtual high school helps transitioning DoDEA students by allowing them to take necessary classes regardless of their location.
Forty-four courses are available, including some Advanced Placement courses. Eligibility is the same as for brick-and-mortar schools; if a course is offered at a local DoDEA school, the student would be required to attend that course unless there is a scheduling conflict.
Special education programs. DoDEA provides free education to students with disabilities who are entitled to enroll in the military's overseas and stateside schools. The school system serves children with mild to severe disabilities. Programs are offered for children with learning, physical, communication or emotional impairments.
Preschool services are provided for disabled children as young as 3. Active-duty members must enroll children with disabilities in the Exceptional Family Member Program, which helps ensure the child's educational and medical needs can be met.
All services have the EFMP but are organized differently. The Army and Marine Corps have EFMP advocates in installation family centers, while the Navy and Air Force have EFMP program and special-needs coordinators in their medical treatment facilities.
Contact: Department of Defense Education Activity, 4040 N. Fairfax Drive, Arlington, VA 22203-1635. Overseas schools, 703-588-3051; Special education office, 703-588-3148; www.dodea.edu
Educational partnerships with civilian schools. DoDEA shares its experience and resources with military-connected civilian school districts to increase student success, provide professional development for teachers, implement support practices to minimize the impact of transition and deployment, and provide access to rigorous educational opportunities. DoDEA has provided 146 grants totaling $167 million to school districts, helping more than 900 schools since 2008.
Contact: www.militaryk12partners.dod ea.edu
Interstate compact. Most military children attend schools operated by local education agencies, with varying policies that affect a child's transition to a new school when moving from state to state. A national effort to address these issues has resulted in more than 40 states adopting the Interstate Compact on Educational Opportunity for Military Children. The compact is designed to smooth out administrative issues involved in moving from one school to another, but it doesn't address quality of education in any one school. States are in various stages of implementing the compact. Among other things, states that have signed on:
♦ Allow students to enter the same grade level in the receiving state as they left in the sending state, regardless of age.
♦ Require local school districts to either waive specific course work needed for graduation if similar work has been completed in another school district, or provide reasonable justification for denial.
♦ Presume that students who qualified for education courses such as honors, International Baccalaureate, Advanced Placement and vocational at their previous school will be qualified in the receiving school and should be placed, at least initially, in those courses if they are offered. The receiving school can do evaluations later to ensure that the student is properly placed.
States will have councils to address the issues, and the councils will have family liaisons that military families can contact. This will be an avenue for families who have not been able to get a transition issue resolved by a school counselor or by the school liaison officer in their command.
DoDEA is an ex-officio member of the interstate commission, and has committed to following the guidelines in the compact to the extent permitted by law, just as any state.
Military Child Education Coalition. Parents, students and educators can find a wealth of information about specific state requirements and other military children's education issues at this group's website, www.militarychild.org.
The MCEC looks at everything that affects education or other opportunities for military children from birth through postsecondary school — from emotional challenges related to school transitions or the deployment of a parent to differences in state policies that make it difficult to transfer from one school to another.
All military services, along with many school districts that educate large numbers of military children, participate in the coalition. Its focus on partnerships encourages such flexible practices as helping a student meet graduation requirements when transferring late in a high school career.
MCEC's SchoolQuest, at www.schoolquest.org, is an online tool for families on the move who want to learn about potential schools that may fit the needs of their children. It uses a database compiled by researchers to present resources, contact information and transition advice about the school districts and schools that serve the selected military community.
Resources for parents, schools, commanders. DoDEA provides information about a variety of resources. At www.militaryk12partners.dodea.edu, under "Resources," there are links to information about the services' school liaison officers, with contact information. These people are liaisons among parents, the commands and schools, with a mission to advise the commands on matters relating to schools that educate children of parents stationed on the installation. They serve as ombudsmen between parents and schools, helping to resolve education-related problems.
The site includes a wide variety of resources for military families such as tips on supporting a child's education and being an effective advocate for the child, services for children with special needs, after-school activities and supplemental academic support, including free online test preparation for help with standardized tests such as the ACT and SAT. The site has resources for school officials, as well.
Contact: www.militaryk12partners.dodea.edu
EDUCATION CENTERS
In addition to active-duty personnel, family members can enroll in college programs offered through service branch education centers and Navy College offices. The centers may offer testing services to family members for a fee.
SCHOLARSHIPS
Scholarship opportunities for military children and spouses range from the military relief societies' scholarship programs to the annual Scholarships for Military Children in conjunction with the Defense Commissary Agency, which offers numerous $1,500 scholarships, funded by donations. Local chapters of veterans service organizations and spouses clubs also are good places to check for scholarships. Some colleges and universities offer their own scholarship programs for military spouses.
DoDEA's home page, www.dodea.edu, has a pull-down menu on the left under "Students and Alumni" with some scholarship information. The National Military Family Association, www.nmfa.org, and The Military Child Education Coalition, www.militarychild.org, also offer information and links to scholarships.
The American Legion publishes a 152-page book titled "Need a Lift?" with detailed information on scholarships for military families, updated annually. A free copy can be downloaded at www.needalift.org. The book also is searchable online.
eStudentLoan.com. This site offers free news and guidance, and can be used as a scholarship search tool.
SmartStudent Guide to Financial Aid. Financial resources are available at www.finaid.org.
U.S. Department of Education. The department provides more than $100 billion annually in financial aid. Programs such as Free Application for Federal Student Aid benefit both civilian and military students.
Contact: www.fafsa.ed.gov, www.ed.gov or www.studentaid.ed.gov
SPOUSE EDUCATION
The military's My Career Advancement Accounts program (MyCAA) provides eligible military spouses with financial assistance to pursue licenses, certifications or associate degrees needed for employment in high-demand, high-growth portable career fields and occupations.
It provides a maximum education benefit of $4,000 with an annual fiscal year cap of $2,000. The annual cap can be waived if upfront tuition costs exceed $2,000 (up to the maximum benefit of $4,000). Those eligible are spouses of active-duty service members in paygrades E-1 to E-5, W-1 and W-2, and O-1 and O-2.
The program will pay tuition costs for education and training courses and examinations leading to an associate degree (excluding general studies and liberal arts), license or certificate issued through an accredited college, university or technical school in the U.S., or through an approved testing organization that expands employment or portable career opportunities.
To establish an account, visit the online portal at https://aiportal.acc.af.mil/mycaa. Officials advise those who have established accounts to check their MyCAA message box frequently in order to get needed information, as well as to provide information needed to complete requests.
For those not eligible for the financial assistance - including those who are seeking a higher level of education - MyCAA has a component with counselors who help spouses identify other sources of educational funding, expanded career choices and opportunities, and support resources.
Contact: www.militaryonesource.com
TUTORING
The Defense Department now covers the costs of an online tutoring and homework help service available 24 hours a day, seven days a week, for all active-duty service members and their families. Adults and youths are matched with screened, certified, professional tutors.
Those eligible. All active-duty, National Guard and reserve personnel on active duty in a deployed status, Defense Department civilians in a deployed status, and their dependent family members. Tutoring is available for kindergarten through grade 12 and beyond. Subjects include elementary math, algebra, geometry, trigonometry, calculus, statistics, earth science, biology, chemistry, physics, vocabulary, grammar, writing, literature and social studies.
Resume and job search assistance is available, as well as resources for citizenship and GED test preparation, and even family budgeting.
Contact: www.tutor.com/military