2012 Benefits Handbook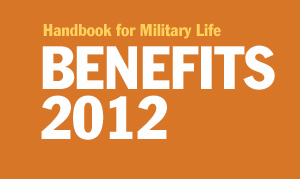 Pay and Benefits

Support Services

Education

Health Care

Housing

Recreation

Moving

Retirement
Support Services
PRIVATE SERVICES
ARMED SERVICES YMCA
The Armed Services YMCA is a social services agency with branches and affiliates at many major installations in the U.S. Most services are offered free or for a nominal fee with a valid military ID card.
Recreational, educational, social and religious programs include child care, mentoring, computer learning centers for children, single service members' centers, hospital assistance, transportation, adult classes, aerobics and classes in English as a second language.
Through the YMCA Outreach program, Armed Services YMCA is contracted by the Defense Department to offer free family memberships at local, participating YMCAs throughout the U.S. and Puerto Rico, for families of deployed National Guard and Reserve personnel and active-duty members assigned to independent duty who do not have access to installation morale, welfare and recreation programs. For specifics, visit www.asymca.org and look under "What We Do" and "National Military Programs."
Contact: www.asymca.org
NATIONAL MILITARY FAMILY ASSOCIATION
In addition to providing a wealth of information about benefits and services for military families, this organization has many other programs, including scholarship programs for military spouses, free "Operation Purple" camps for children of deployed service members, and reintegration weekend retreats for families.
Contact: www.militaryfamily.org
OPERATION HOMEFRONT
This network, with 23 chapters nationwide, offers help with day-to-day issues for families of deployed troops and wounded warriors. Services include financial assistance, housing and food needs; critical car, home and appliance repair; refurbishing computers; moving and transportation; and furniture needs.
Contact: www.operationhomefront.net/map.aspx
RED CROSS
Armed Forces Emergency Services of the American Red Cross provides a vital link to home for those serving in remote areas. Emergency messages can be sent by service members or their families for quick relay by the Red Cross to almost any community or military installation, even to ships at sea. Some local Red Cross chapters may be able to provide links to assistance for families, including parents of service members and others who may not live near a military installation.
Contact: 877-272-7337; www.redcross.org
RELIEF SOCIETIES
The four private military relief societies can help service members with emergency financial problems.
Each has local representatives on military installations, usually in family centers. They offer education assistance programs for spouses and children and also can help service members and families with debt management. Some aid comes through direct grants, but most is in the form of interest-free loans. The societies may be able to help service members get a no-interest loan within a few hours to help them avoid high-interest predatory lenders.
The societies rely solely on donations for their support and do not charge for their services.
Contact: Army Emergency Relief, www.aerhq.org; Air Force Aid Society, www.afas.org; Navy-Marine Corps Relief Society, www.nmcrs.org; Coast Guard Mutual Assistance, www.cgmahq.org
SPOUSE CLUBS
These clubs, found at most military installations, help spouses get acquainted with new communities, make friends and find support. The clubs are chartered and registered with the local installations.
These are not formal entities of the Defense Department. Most are involved in a variety of charitable and self-help efforts.
USA CARES
This civilian group, formed in 2003, helps families with various problems that arise during deployments and mobilizations, with a focus on helping families through short-term financial crunches -- helping with basic needs such as keeping the lights on and food on the table. USA CARES has a program to help wounded warriors and a program that can help families avoid losing their homes because of deployment-related financial trouble. Applications for assistance are accepted online only.
Contact: 800-773-0387; www.usacares.org
USO CENTERS
United Service Organizations operates more than 160 centers worldwide offering hospitality in commercial and military airports, on military bases and at Navy fleet centers. The centers have programs to meet local needs ranging from housing assistance and emergency assistance to support groups; cultural, educational and recreational activities; tours; and new spouse orientation. The "USO in a Box" program is a shippable USO center that can be sent anywhere in the world to support and entertain troops. The "USO Operation Phone Home" program provides free phone cards to troops.
Contact: 888-484-3876; www.uso.org