2012 Benefits Handbook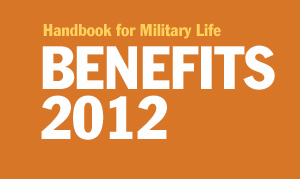 Pay and Benefits

Support Services

Education

Health Care

Housing

Recreation

Moving

Retirement
Retirement
OTHER BENEFITS
ALLOTMENTS
Military retirees have several options for automatic paycheck deductions. They can establish discretionary allotments to pay insurance premiums, mortgages, rent or loans; support relatives; or deposit funds into financial or investment accounts.
Contact: The Defense Finance and Accounting Service's Retired Pay Customer Service, 800-321-1080, 7 a.m. to 7:30 p.m. Eastern time, Monday through Friday.
COST-OF-LIVING ADJUSTMENTS
Retired pay rises each year to ensure inflation does not erode retirees' purchasing power. These cost-of-living adjustments, or COLAs, are based on changes in the Labor Department's Consumer Price Index, a measure of the costs of common goods and services, over the last three months of the fiscal year, July through September.
The annual retiree adjustment usually is approved each Dec. 1, and first appears in January retired paychecks. It matches the annual increase in Social Security benefits.
Retirees got a jolt in late 2009 when it was announced that the economic recession had resulted in no inflation for the fiscal year — in fact, the nation experienced deflation. By law, military retired pay cannot decline, but for the first time in more than a generation, retirees saw no cost-of-living adjustment in 2010. Inflation remained so low that for 2011, retirees again saw no increase in their annual COLA for an unprecedented second consecutive year.
After that two-year hiatus, the COLA has returned, with all retires receiving a 3.6 percent increase in retired pay in 2012.
Retirees can track the monthly inflation rate that determines the annual COLA through the Military Times' online "COLA Watch" chart. Go to www.militarytimes.com/money/ and click on "Tracking your COLA" under "Retirement."
DEATH BENEFITS
While VA does not provide military funeral honors, the Defense Department does. However, VA, the active-duty military and many veterans groups pool resources to provide financial help, practical assistance and military honors.
Veterans who served on active duty, except those who received dishonorable discharges, are entitled to burial in a national cemetery, a government-provided headstone or marker, a flag and a Presidential Memorial Certificate. Flags can be obtained through any VA regional office and most post offices. All requests for benefits must be accompanied by proof of service in the form of a DD 214 discharge document.
Some programs designed to honor deceased military veterans:
Service-related death. VA will pay up to $2,000 toward burial expenses. If the veteran is buried in a VA national cemetery, some or all of the cost of transporting the deceased also may be reimbursed.
Nonservice-related death. VA will pay up to $300 toward burial and funeral expenses, and a $300 plot-interment allowance.
Under a change in law enacted in late 2010, VA will pay up to $700 toward burial and funeral expenses and a $700 plot internment allowance for deaths that occur in a VA facility or under VA-contracted care. However, Congress included a delayed effective date for this provision; it applies only to qualifying deaths occurring on Oct. 1, 2011, or later.
For deaths that occur in a VA hospital or under VA-contracted nursing home care, some or all of the costs for transporting remains also may be reimbursed.
The government provides free headstones and markers worldwide for veterans. Eligible family members (spouses and dependent children) buried in national, military base or state veterans cemeteries also are entitled to free headstones and markers.
Funeral honors. Honor guards are authorized for deceased retirees. Living retirees are eligible to serve on honor guards at the discretion of the military service secretary.
The Defense Department must provide, on request, at least two uniformed personnel, a bugler or a recording of "Taps," and folding and presenting of a U.S. burial flag at every military funeral.
When possible, the uniformed contingent comes from the deceased's service branch. Veterans organizations also may provide honor guards.
The funeral director normally handles the details of getting an honor guard. An adjutant general's office, duty officer or commander's office at a local installation or reserve training center also can provide this service.
Interment in Arlington National Cemetery. Interment is offered for service members in the following categories, as long as their last period of active duty ended honorably:
♦ Any active-duty member of the armed forces (except those serving on active duty for training only).
♦ Any veteran retired from active military service.
♦ Any veteran retired from the reserves who served a period of active duty (other than for training) and is drawing retired pay, upon reaching age 60.
♦ Any former service member separated honorably before Oct. 1, 1949, for medical reasons and who was rated 30 percent or greater disabled at time of discharge.
♦ Any former service member who has been awarded the Medal of Honor, Distinguished Service Cross (Navy Cross or Air Force Cross), Distinguished Service Medal, Silver Star or Purple Heart.
♦ Any current or former U.S. president.
♦ Any former member of the armed forces who served on active duty (other than for training) and who held any of the following positions: an elective office of the U.S. government; justice of the U.S. Supreme Court; an office listed, at the time the person held the position, in 5 USC 5312 or 5313 (Levels I and II of the Executive Schedule); the chief of a mission who was, at any time during his tenure, considered to be in Class I under the provisions of Section 411, Act of 13 August 1946, 60 Stat. 1002, as amended (22 USC 866) or as listed in a State Department memorandum dated March 21, 1988.
♦ Any former prisoner of war who served honorably on active duty, whose last period of service was honorable and who died on or after Nov. 30, 1993.
♦ Spouses, minor children, permanently dependent children and certain unmarried adult children of any of the above eligible veterans.
♦ The widow or widower of a service member who is lost or buried at sea or officially determined to be missing in action, interred in a U.S. military cemetery overseas maintained by the American Battle Monuments Commission, or interred in Arlington National Cemetery as part of a group burial.
♦ The surviving spouse, minor child or permanently dependent child of any person already buried in Arlington National Cemetery.
♦ The parents of a minor child or permanently dependent child whose remains, based on the eligibility of a parent, already are buried in Arlington National Cemetery. (A spouse divorced from the eligible person, or widowed and remarried, is not eligible.)
♦ A former service member in the same grave with a close relative who already is buried and is the primary eligible person, provided certain conditions are met.
Arlington columbarium. The Arlington columbarium is available for cremated remains of all honorably discharged veterans and their eligible spouses and dependent children. Eligibility requirements basically are the same as those for burials in other national cemeteries.
Other national cemeteries. Military retirees, including retired reservists, and veterans who served on active duty and received discharges other than dishonorable are eligible for burial in any cemetery operated by the VA in the U.S. and Puerto Rico and the 14 cemeteries operated by the National Park Service.
There is no cost for a grave site, headstone or marker in these cemeteries. Grave sites cannot be reserved.
Contact: www.cem.va.gov or www.vba.va.gov/vba/benefits/factsheets/
EDUCATION
Post-9/11 GI Bill. This program, which launched Aug. 1, 2009, is one of the most sweeping military benefits upgrades in decades. Open to service members and veterans with active-duty service since Sept. 11, 2001, it covers full tuition and fees for up to 36 months of schooling. The program also provides a monthly living stipend, equal to the military housing allowance rate for an E-5 with dependents in the ZIP code where the school is located, as well as an annual book allowance of $1,000.
To qualify for full benefits, service members must have at least three years of active duty after Sept. 11, 2001. Lesser amounts of active duty rate a percentage of full benefits.
Montgomery GI Bill. This long-standing program, which remained in effect when the new Post-9/11 GI Bill launched, has two components for active-duty and Selected Reserve service members.
Those participating in the GI Bill-Active Duty agree to have nonrefundable contributions withheld from their paychecks at a rate of $100 per month over their first 12 months of service. In addition, to receive the benefits, veterans must have served the contracted number of years on active duty (at least two) and received an honorable discharge. Those eligible for the GI Bill-Active Duty have 10 years after separating or retiring from service to use their benefits.
The GI Bill-Selected Reserve requires no contribution, but reservists must be participating satisfactorily in the unit's monthly drills and be enrolled in at least half-time status in an eligible college, trade or technical school. Unlike the active-duty program, GI Bill-Selected Reserve benefits must be used while the reservist is still in a drilling status; they cannot be used after separation.
Contact: 888-GI-BILL-1, or 888-442-4551; www.gibill.va.gov
GARNISHMENT
A civilian court can garnishee the income of retirees if they fall behind in alimony or child support. Garnishment begins with a court order sent to a military finance center.
The finance center deducts the amount from a paycheck before it is written and sends the garnisheed amount to the court-identified person.
The Consumer Credit Protection Act limits the amount that can be deducted as child support/alimony from earnings. The limit ranges from 50 percent of disposable earnings to 65 percent.
Retirement pay is not subject to the Defense Department policy allowing creditors to garnishee military paychecks to satisfy bad debts.
HEALTH CARE
All retirees and their dependents retain eligibility to be treated in military hospitals and clinics when they turn 65. But care is provided on a space-available basis, and getting an appointment is increasingly difficult as installations close. Therefore, most retirees are seen at civilian facilities using Tricare, the military's managed-care insurance program.
Tricare for Life. Tricare offers retirees several insurance plans, depending on their age, with costs and options for provider care that vary widely.
Retirees 65 and older can see civilian doctors and have Tricare pay for part of the cost under Tricare for Life. This is essentially a version of the basic Tricare Standard program; these retirees cannot use Tricare Prime. Retirees must be enrolled in Medicare Part B to use Tricare for Life, even though Medicare does not offer coverage outside the U.S. for retirees living abroad.
Retirees under age 65 can choose to be covered under one of the other Tricare plans — Standard, Prime, Prime (Remote) or Extra. However, some aspects of how these programs work change when beneficiaries move from active-duty to retired status. For example, Tricare Prime has no enrollment fee for active-duty beneficiaries, but it does have such a fee for retirees under age 65 and their family members.
When a retiree receives care, the retiree first submits the cost of treatment to Medicare. What Medicare does not pay is sent to Tricare. When benefits are covered by Tricare but not Medicare, Tricare pays for the services. Overseas, Tricare is the primary payer. For claims to be paid, retirees must keep their personal data current in the Defense Enrollment Eligibility Reporting System.
Tricare Retiree Dental Program. Military retirees and their families are eligible for the Tricare Retiree Dental Program, administered by Delta Dental of California. It provides dental coverage to enrollees in the 50 states, the District of Columbia, Canada, Guam, Puerto Rico, U.S. Virgin Islands, American Samoa and the Northern Mariana Islands.
Contact: www.trdp.org
Tricare Pharmacy. Under the Tricare Pharmacy program, the cost of drugs for retirees depends on several factors. Drugs are cheaper if ordered by mail; for example, a 90-day supply of a generic drug ordered through the Tricare Mail Order Pharmacy Program costs nothing, while the same drug purchased at one of more than 54,000 participating Tricare retail pharmacies is $5 for a 30-day supply. Similarly, brand-name drugs cost $9 for a 90-day supply through the mail or $12 for a 30-day supply at a network retail store.
Some brand-name drugs that are not a part of the Defense Department formulary are placed on a third price tier, for which a 30-day supply from a retail outlet or a 90-day supply through the mail costs $25.
Military retirees and their family members who turned 65 on or after April 1, 2001, must have Medicare Part B to use Tricare's retail and mail-order pharmacy programs. Military retirees and their family members who turned 65 before April 1, 2001, are not required to carry Part B to use the pharmacy benefits.
In 2006, the new Medicare prescription drug coverage, known as Part D, became available to everyone with Medicare Part A and/or Part B, except people living overseas or serving prison sentences. In nearly all cases, Tricare beneficiaries derive no advantage from purchasing Medicare Part D coverage. The exceptions may be for those with limited incomes and assets who qualify for Medicare's extra help with costs for prescription drug plans; such individuals may benefit by enrolling in a Medicare prescription drug plan.
Contact: 877-363-1303; http://tricare.mil/mybenefit/home/Prescriptions
As part of its 2013 defense budget request, the Obama administration unveiled a proposal in early 2012 to make several significant increases in Tricare fees for retirees — hikes in Tricare Prime enrollment fees for retirees under age 65, a new Tricare for Life annual enrollment fee for retirees 65 and older, and higher pharmacy co-pays for both retirees and active-duty family members.
LIFE INSURANCE
Servicemembers' Group Life Insurance coverage is available in $50,000 increments up to a maximum of $400,000.
Veterans' Group Life Insurance extends renewable, five-year term insurance to members after they leave active duty or the reserves. It's available in $10,000 increments up to $400,000, although maximum coverage is limited to the maximum amount of SGLI held on active duty or in the reserves.
Veterans who had SGLI in the military are eligible for VGLI for their lifetimes without evidence of good health if they apply within 120 days of leaving service. They can apply for up to another year, but are then subject to medical screening.
Monthly premiums can be deducted directly from retirement pay or VA disability compensation. They also may be paid quarterly, semiannually or annually, at progressively larger discounts.
Premiums increase as VGLI participants age. To hold down costs, policyholders may convert VGLI to a permanent, whole-life insurance plan with fixed premiums for life, or keep the premium at a fixed level but reduce their coverage as they get older.
Accelerated benefit. Terminally ill veterans with VGLI may be eligible to receive an accelerated benefit. Under this plan, policyholders can receive up to half of their coverage amount tax free. To qualify, VGLI policyholders must produce a doctor's certification that they have nine months or less to live.
Alliance Accounts. VGLI proceeds are distributed through the use of an interest-bearing account from which the beneficiary can write a check for $250 or more. Alliance Accounts allow beneficiaries to begin earning a competitive interest rate on their proceeds immediately upon payment, while providing instant access to their money.
Contact: 800-419-1473; www.insurance.va.gov/sglisite/handbook/handbook.htm
MEDALS AND DECORATIONS
Retirees who have lost medals or decorations, or never received ones they earned, may request them at any time. The government will replace lost or destroyed decorations for service or valor at no cost. There may be a charge for campaign ribbons and badges. Requests should include dates of military service, Social Security or serial number, and dates of birth and retirement.
Contact: National Personnel Records Center, Military Personnel Records, 1 Archives Drive, St. Louis, MO 63138; 314-801-0800; fax: 314-801-9195; email: MPR.center@nara.gov
MOVING AND STORAGE
Service members who retire from the military can move anywhere in the continental U.S. at the government's expense; they do not have to be going to their official home of record.
Certain restrictions apply for retirees intending to live in Alaska and Hawaii. For those states, as for other locations outside the continental U.S., the government will pay moving expenses only if the location is listed as a retiree's official home of record or is where the retiree initially was called or ordered to active duty. Filing a final travel settlement voucher with a military finance office constitutes selection of a home.
Retirees do not receive advance pay and allowances, dislocation allowance, move-in allowance or temporary lodging allowances. They can get mileage and per diem allowances for moving expenses.
Household goods can be shipped from the retiree's last duty station, any previous stateside duty station or storage area, or any combination of the three. In most cases, retirees have a year from their retirement date to finish moving.
RETIREMENT HOMES
A number of retirement and long-term treatment facilities are available to veterans. Most veterans retirement homes are free to residents, although some ask for payments.
Armed Forces Retirement Home. Facilities with a special relationship to the military are the Armed Forces Retirement Homes in Washington, D.C., and Gulfport, Miss.
The Gulfport facility was forced to close in August 2005 after it was heavily damaged by Hurricane Katrina and its residents were evacuated to other facilities. The facility finally reopened to residents in October 2010.
The facility is located on 47 acres of prime waterfront land on the Mississippi Sound. It is a multitower complex with full amenities such as dining, social, recreational and therapeutic activities, swimming pool, hobby shops, wellness center with basic dental and eye care, bank, barber and beauty shop, bowling center, movie theater, computer room, library, and pedestrian bridge to the beach.
The 2012 Defense Authorization Act contained a provision to abolish the traditional local advisory boards for each home and establish a single advisory board for both homes.
Contact: 800-422-9988; www.afrh.gov
VA domiciliaries. These facilities provide institutional care to veterans who are not acutely ill and do not need hospital care. They also offer short-term rehabilitation and long-term health maintenance to veterans who require minimal medical care. Patients typically stay about seven months. VA operates more than three dozen domiciliaries across the country.
VA nursing homes. Veterans with service-connected disabilities rated 70 percent or higher, as well as veterans in need of nursing home care for a service-related condition, are considered mandatory placements in VA nursing homes and are provided free care.
If space and resources are available, other veterans may be eligible on a case-by-case basis, with priority given to those with service-connected conditions and those who need care for post-acute rehabilitation, respite, hospice, geriatric evaluation and management, or spinal cord injury.
All other veterans who are subject to co-payments also may be considered for nursing home care, although placement options vary by location.
There is no co-payment for the first 21 days of nursing home care in any 12-month period. Charges beginning on the 22nd day vary, depending on income, expenses, liquid assets and other factors.
VA's Community Living Centers Program, formerly known as the nursing home program, provides compassionate care to eligible veterans with functional impairment. Veterans with chronic, stable conditions such as dementia, those requiring rehabilitation or short-term specialized services such as respite or intravenous therapy, or those who need comfort and care at the end of life, are served in the centers. Most of these facilities are near VA medical centers. VA operates 130 centers in 47 states and Puerto Rico.
VA also has contracts to provide various other forms of care in hundreds of locations across the country, including home-based primary care, purchased skilled home care, adult day health care, homemaker and home health aide services, home respite care and home hospice care.
Contact: www.va.gov/geriatrics
SPACE-AVAILABLE TRAVEL
Retirees and their families can get seats aboard government aircraft under the military's space-available program, which offers empty seats to certain members of the military community.
Retirees can use space-A to fly stateside, overseas or between the U.S. and overseas. Nominal fees are charged only on some international flights using commercial aircraft or airports. There are restrictions.
Contact: www.amc.af.mil/shared/media/document/afd-060328-001.doc
SURVIVOR BENEFITS
To enable retirees to provide for their families after their deaths, the government offers an annuity program called the Survivor Benefit Plan.
SBP coverage also is given to all active-duty members at no cost while they remain in uniform. Active-duty and reserve retirees must pay monthly premiums. The SBP provides up to 55 percent of a member's monthly retired pay to his survivors.
To participate in the SBP or the Reserve Component SBP, or to decline participation, both the retiring service member and spouse must agree to the option in writing.
Monthly premiums are deducted from retired pay. Retirees who elect SBP coverage when they leave active duty must remain covered for two years, after which they have a one-time, one-year window of opportunity to withdraw from the program.
When retirees elect to participate in SBP, they select a dollar amount of their retirement pay, called the base amount, as the foundation of the benefit. This must be between $300 and the full amount of monthly retirement pay. The cost of SBP generally is 6.5 percent of the amount of coverage a retiree selects. Surviving spouses then receive 55 percent of the base as their SBP payment.
Surviving spouses of retirees have SBP annuities suspended if they remarry before age 55. If the marriage ends for any reason, the SBP will be reinstated when requested and when appropriate documentation is provided. However, the dependent ID card and its associated entitlements are not reinstated.
Cost-of-living adjustments. SBP premiums and annuities to survivors increase yearly, following the same guidelines used for retired pay COLAs.
DIC offset. Survivors of service members who die on active duty and survivors of retirees who die of service-connected causes are eligible for Dependency and Indemnity Compensation from the Veterans Affairs Department. However, if survivors also receive SBP payments, those payments are reduced dollar-for-dollar by the amount paid in DIC. A pro-rated share of SBP premiums is refunded to the surviving spouse in a lump sum, but with no interest.
The 2008 Defense Authorization Act created a special payment to partially offset the reduction in SBP benefits required for those who also receive DIC. The special payments began Oct. 1, 2008, the start of fiscal 2009. The monthly payment in fiscal 2009 was $50, and is rising by $10 each year to $100 per month in fiscal 2013. It will stay at $100 through February 2016, when the special payment is due to end.
Paid-Up SBP. Under a policy change that took effect Oct. 1, 2008, SBP participants who have paid monthly premiums for 360 months — 30 years — and have reached age 70 are considered "paid up" in the program. The monthly deductions from their retirement checks end, and they do not have to pay into the program any more for the rest of their lives. The Defense Finance and Accounting Service now includes a tally of the number of monthly payments credited toward paid-up status on retiree pay statements.
Retirees with Reserve Component SBP are covered under the program; however, credit for Paid-Up SBP applies only to months in which premiums are deducted from retired pay. Since reserve retirees do not have premiums deducted until they are eligible to receive retired pay (usually age 60), months in which they were in RC-SBP but paid no premiums do not count toward Paid-Up SBP.
Eligible retirees do not need to do anything to terminate premiums. DFAS is supposed to notify them directly of their paid-up status and when premium payments will stop.
Contact: More information on Paid-Up SBP and the appeals process can be found at www.dfas.mil/retiredmilitary.html
Disability. Retirees who have a service-connected disability rated by VA as totally disabling for 10 or more continuous years, or have a total disability rating that has been held for not less than five continuous years from the last date of active duty, may withdraw from SBP participation.
Withdrawal is allowed because the surviving spouse will qualify for Dependency and Indemnity Compensation, as the retiree's death will be presumed to be from service-connected reasons.
A request for withdrawal requires the written consent of the beneficiary. When the retiree dies, the surviving spouse will be entitled to a refund of all the SBP costs that were paid. When a retiree requests withdrawal under these rules, the Defense Finance and Accounting Service must provide a written statement outlining the advantages and disadvantages of withdrawing. The change will not take effect until the retiree confirms receipt of the information and acknowledges that he or she still wishes to withdraw.
If, for some reason, the VA disability rating is withdrawn or reduced, SBP coverage may be resumed if the retiree makes a request within one year.
Divorce. If a service member's marriage ends, SBP deductions stop when the retiree notifies the Defense Finance and Accounting Service. No more deductions are made unless the retiree remarries. The retiree then has a year to opt out of the benefit for the new spouse. Retirees who do not notify the DFAS of their remarriage, and therefore fail to decline coverage with approval of the new spouse, will owe any premiums not deducted from their retirement pay.
SBP benefits also can be provided for ex-spouses, and courts can order coverage for them. They are eligible for benefits at the same cost as spouses.
Contact: http://militarypay.defense.gov/survivor/sbp
TRANSITION ASSISTANCE
Most major installations offer a variety of services to retiring service members. Job-hunting seminars, one-on-one assistance with writing resumes and computerized job banks are a few of the services available to retirees.
The Defense Department has set up a one-stop website called TurboTAP with guidebooks and other resources that can be downloaded and links to information on a variety of transition assistance support. Registration is required.
Contact: www.turbotap.org